Events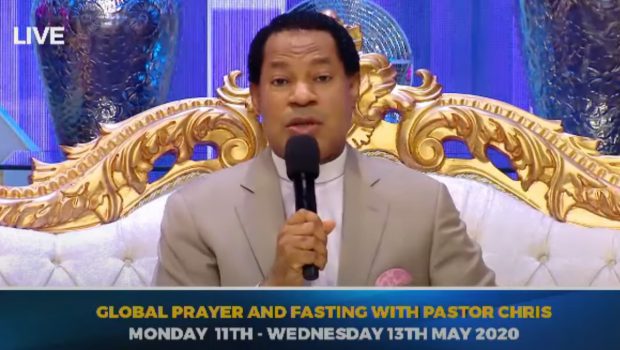 Published on May 10th, 2020 | by Gabriele Adbbe
0
Three days of Global Fasting and Praying with Pastor Chris
As the fifth phase of "Your LoveWorld with Pastor Chris" comes to an end on Monday, May 11th, another prayer service with Pastor Chris Oyakhilome comes to life.
During his weekend broadcast of "Your LoveWorld," the Pastor announced that a Global Fasting and Praying event will take place from Monday, May 11th to Wednesday, May 13th.
Pastor Chris Oyakhilome said that fasting and praying is necessary in order to prevent bad things from happening.
"You have got to pray. Jesus said: 'Men ought always to pray.' Pray! There are things that we must make sure do not happen. And guess what, when they do not happen, we are all going to be happy and thank God they did not happen. Of course, there are going to be people who will say: 'Oh, they were not going to happen,' but listen… Eventually, they will happen," he said.
"Our prayer gives us the allocation of our time for us to utilize as God intended rather than to lose it to Satan. We have an allocated time," the Pastor continued.
People have faith in man and not in God
During the "Your LoveWorld" prayer, Pastor Chris Oyakhilome emphasized why it is important to listen to God's prophecies.
"At least most of the world has experienced and are maybe experiencing some form of lockdown of their cities and flattening of their economies. Things that they never dreamed could happen. But you know, a whole lot of people have faith in man and not in God," he stated.
Pastor Chris Oyakhilome then went on to compare it to a Bible story.
"And you look at the Bible when God told Noah to build an ark. An ark of salvation because he said he was going to destroy the world with water. They did not believe. They did not believe. All they thought was: 'Oh come on, Noah, that will never happen.' Because there were so many that did not believe that somehow it was not going to happen… You know, there is a faith people tend to develop in numbers. They think that if they were many enough, no one would do that," he said.
The impact of the Coronavirus
In order to prevent those thoughts, Pastor Chris Oyakhilome has initiated the three days of fasting and praying.
In the beginning of April, the Pastor kicked off his first week of fasting and praying, and since then, the event has been extended a number of times. At the moment, the fifth phase is running.
All of the fasting and praying services came after Pastor Chris Oyakhilome and Pastor Benny Hinn's extremely successful Global Prayer Day on March 27th. The two redeemed pastors prayed against the Coronavirus, which has claimed 279,329 lives at the time of writing.
3 billion people from all over the world watched the Global Prayer Day.