Events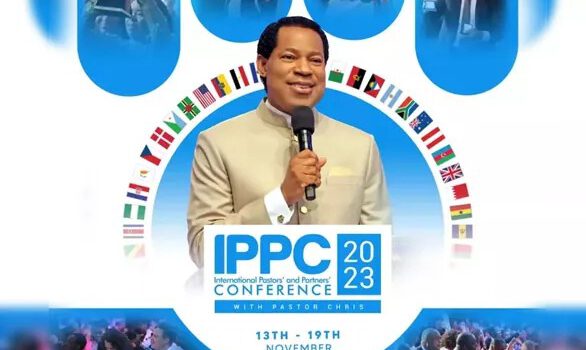 Published on November 3rd, 2023 | by Alberto Krinsky
0
Transform Your Ministry: Join Pastor Chris at IPPC 2023
In the heart of the bustling city, Pastor Chris Oyakhilome extends a warm invitation for pastors, partners, and faithful Christians to immerse themselves in a week-long journey of spiritual enlightenment, personal growth, and divine inspiration.
This golden opportunity is none other than the International Pastors and Partners Conference (IPPC) 2023, slated to occur from November 13th to 19th at the LoveWorld Camp Grounds.
This conference promises to be a transformative experience that will forever alter the trajectory of your ministry.
What Awaits You at the International Pastors and Partners Conference 2023 with Pastor Chris?
At the International Pastors and Partners Conference 2023, attendees will be immersed in a spiritual journey unlike any other.
But what exactly can you expect from this conference?
In-Depth Teachings by Pastor Chris: Pastor Chris Oyakhilome, the founder of Loveworld Incorporated, also known as Christ Embassy, will be delivering profound teachings and insights drawn from the Word of God.
His messages have transformed millions of lives across the globe, and this conference is your chance to experience that transformation firsthand.
Network with Like-minded Individuals: The IPPC 2023 is not just a spiritual retreat but also a valuable opportunity to network with like-minded individuals who share your passion for spreading the Gospel.
Connect with pastors, partners, and believers from all corners of the globe and foster relationships that will bolster your ministry.
Exclusive Workshops and Seminars: The conference will feature a series of workshops and seminars led by seasoned ministers and experts in various fields. 
These sessions are designed to provide practical insights and strategies that will empower you to take your ministry to the next level.
How Can You Be Part of This Extraordinary Experience with Pastor Chris?
The International Pastors and Partners Conference 2023 is open to pastors, the Deaconry, and partners of LoveWorld Incorporated.
Registration has already begun, so act fast and secure your spot for this unmissable event. 
Make your travel plans now and prepare for a week that will change your life forever.
A Glimpse into the Events at IPPC 2023
The IPPC 2023 is divided into several events to cater to the unique needs of pastors and partners:
Pastor's Conference (November 13th – November 15th): This event is specifically designed for pastors and will focus on deepening their understanding of the Gospel and equipping them with the tools they need to lead their congregations effectively.
Partner's Conference (November 16th – November 19th): This event is for the partners who support the ministry financially and in other ways. It is an opportunity for partners to learn more about the impact of their support and how they can further contribute to the spread of the Gospel.
Loveworld Awards (November 18th): The Loveworld Awards is a unique event where individuals and churches are recognized and celebrated for their contributions to the ministry.
Praise Night (November 19th): Praise Night is the grand finale of the IPPC 2023, where attendees will come together to worship and praise the Lord for all the blessings and victories of the past year.
Why Should You Attend the International Pastors and Partners Conference 2023?
The IPPC 2023 is not just a conference; it is a divine appointment with destiny. It is an opportunity to:
Receive Revelatory Knowledge: Pastor Chris is renowned for his profound insights into the Word of God.
His teachings will open your eyes to the truths of the Gospel and empower you to live a victorious Christian life.
Experience Spiritual Renewal: The conference is a time of refreshing and renewal in the presence of the Lord. 
As you immerse yourself in the worship sessions and engage with the Word, you will experience a fresh outpouring of the Holy Spirit.