Events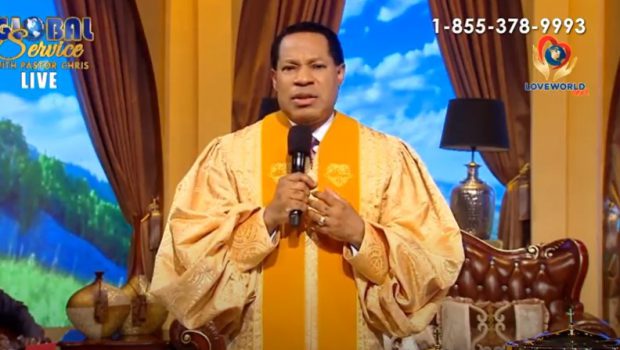 Published on August 3rd, 2020 | by Alberto Krinsky
0
Pastor Chris declares August the Month of Recovery
During Pastor Chris Oyakhilome's long-awaited Global Communion Service for August, he announced that the theme of the month is Recovery.
"This month is going to be a very special month. Thank God for his love, his grace, his kindness and for the amazing ministry of the Holy Spirit that we have been receiving," he said during the broadcast.
"Make sure that your evangelical work is not suffering. You have to do it more than ever before. Use your 'Rhapsody of Realities.' Make sure you distribute 'Rhapsody of Realities' around the world," he continued.
Pastor Chris also emphasized that a stronger power will be available in the Month of Recovery.
"Remember, because it is the Month of Recovery, the opportunities that you missed – you can get them back and win souls. Win souls like never before and the power of whatever it is that you do would be several times what it would have been because you are recovering all by God' s special grace that is granted you in this time and in this hour," he stated.
New prayer week added
Chris Oyakhilome also addressed the COVID-19 pandemic, which has taken its toll on the entire world for most of 2020.
"In the last few months, we have seen several things happen across the world. Nations practically destroyed. Economies destroyed. Some countries may never be able to regain their economic status. Some businesses may never get back," the Christ Embassy leader said.
Since the beginning of the coronavirus outbreak, Pastor Chris Oyakhilome has been running online prayer weeks called "Your LoveWorld with Pastor Chris."
The popular broadcasts have been extended time and time again, and during August's Global Communion Service, the pastor announced a new phase of the prayer weeks.
The new round will run from Monday, August 17th until Sunday, August 23rd.
Goodbye to a productive month
Welcoming the Month of Recovery also means a goodbye to the Month of Productivity, and the LoveWorld nation sure has been productive during the past month.
While the COVID-19 pandemic has continued its worldwide rampage, the pastor has given even more food relief packages to people and ministers in dire need around the world, including in the UK, Nigeria and Uganda.
The LoveWorld platforms KingsChat and CeFlix have also been hosting a Social Media Week in the last week of July.
A week that Pastor Chris Oyakhilome has called both "amazing, very powerful, enlightening and empowering."
If you did not watch the Global Communion Service for August, you can do so below.