Events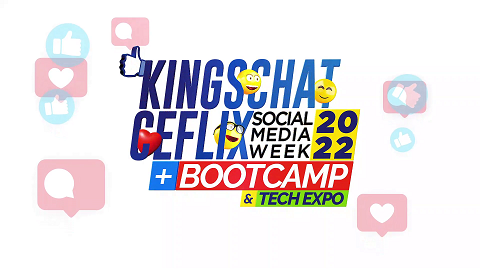 Published on October 26th, 2022 | by Gabriele Adbbe
0
KingsChat CeFlix Social Media Week 2022 + Bootcamp & Tech Expo: how was it?
KingsChat-CeFlix Social Media Week is a special event organized by the LoveWorld Ministry for the third time in a row. Each year, a week-long conference aims to tell everything about new online trends, technological progress, and current challenges in social media. 
In 2022, the conference lasted from October 17th until October 22nd. During six days, experts and opinion leaders from the LoveWorld Ministry shared their expertise in navigating the digital world. 
This year, Social Media Week was special as it featured Bootcamp and Tech Expo sections. 
As LoveWorld's main digital event of the year is over, it is time to wrap up the most discussed topics and remember insights given to us by online specialists. 
KingsChat, CeFlix: t
he purpose of LoveWorld's Social Media
In the modern world, social media is a powerful tool that can influence people and shape their opinions. Avoiding the huge impact of the digital world is not a solution anymore, but it is vital to take the lead. 
Using social media platforms can call numerous souls to Christ with more effectiveness and less time. LoveWorld's platforms like KingsChat, CeFlix, and many others have a chance to hit this goal. However, just having a platform is not enough. Pastor Rita Ijomah says the platforms' constant development and strengthening also matters: 
"It's a game of numbers! We are not just reaching souls, we are engaging and building them to make them a part of our workforce. This is why we must come together to build and strengthen our platforms and give us more voice," 
Pastor Deola Phillips defines another purpose for LoveWorld platforms which is spreading the truth. According to the LoveWorld CEO, this is how organizing mass action on social media becomes possible. 
"Truth multiplies, it spreads, it empowers, it liberates. It gives power and dispels fear," adds Pastor Deola and continues: 
"It is our responsibility to saturate the world with the truth of God's Word as custodians of truth." 
Pastor TT Temisan is also optimistic about LoveWorld's platforms saying they are the most powerful in the world. A member of the Central Executive Council believes LoveWorld is creating a new World Order which is a Christ World Order. 
Speaking about reaching souls for Christ, a member of the Central Executive Council at LoveWorld Inc recommends exploring and using them to evangelize and achieve the 7 Billion Mandate.  
Pastor Christine Okechukwu joins the opinions above saying, "We are here to harness all the advantages we have with our digital platforms." 
Taking care of our children
During the KingsChat-CeFlix Social Media Week, there was also time and place to talk about social media's impact on children. Pastor Dipo Shitta and Brother Nelson talked about the KingsChat extension called KingsChat Games. 
For children, KingsChat Games is a great opportunity to study the Bible more entertainingly. Pastor Dipo Shitta assures the games are absolutely safe, thus, parental guidance is not required. 
Brother Nelson adds that the gaming experience on KingsChat Games helps deliver LoveWorld's message to people and influence them positively. 
"Our Games are wholesome, family-friendly, educative, and informative," says Brother Nelson. 
Another big topic was the PCDL 4 Kids, a children's version of the Pastor Chris Digital Library App. LoveWorld Inc. also launched a cartoon with the same name.  Sister Itohan Omeike calls it "a first-ever 3D series about our four characters: P — Peter, C — Charity, D — Daniel, and L — Lana." She continues: 
"This production shows daily challenges faced and how to respond with God's Word the right way." 
Speaking about the cartoon's main message, Sister Itohan Omeike remarks that "PCDL 4 Kids is designed to teach the kids the Bible and defend the Faith wherever they go." 
"Our priority is to reach all kids with the gospel of truth with PCDL 4 Kids," Sister Itohan Omeike says and continues: 
"PCDL 4 Kids empowers kids today with everyday living, educational, and character development in Fun Facts," 
Technical progress never stops
KingsChat-CeFlix Social Media Week brought up the subject of the technical advantages of social media and digital behavior. Pastor Tony Ikeokwu was the main expert in these spheres.  
Pastor Tony noticed we moved away from the Internet of Things to the Internet of Behavior. He also says that the line between online and offline is blurring so fast, and that can be a result of the mentioned shift.  
In Pastor Tony's view, "Social media is the only place you can have billions gather in one space from different parts of the world, interacting together." That means we should watch for any changes occurring in the digital world. Remembering this is also important if we want to spread the Word effectively. Pastor Tony points out: 
"As believers, if we want to stay relevant in communicating our gospel, we must understand the times and trends of today."