Events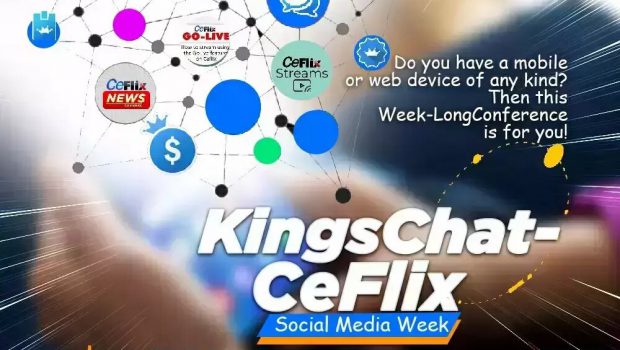 Published on July 21st, 2020 | by Gabriele Adbbe
0
Get ready for KingsChat and CeFlix' Social Media Week
Social media plays a big role in today's society; this is where we connect with friends and strangers, it is where we get news and discover trends, and it is even where some people work.
If you want to learn how you can conquer the world of social media, you need to put a big X in your calendar next week.
On Sunday, July 26th, KingsChat and CeFlix' Social Media Week kicks off and continues through Saturday, August 1st.
During the week-long event, you can participate in 70 seminars, 42 workshops, 14 product reveals and 14 keynotes.
According to the LoveWorld nation, the purpose of the Social Media Week is to empower people to maximize the readily available technological tools for wealth creation, economic growth, career path interest and personal development in specific areas of interest.
Cybersecurity, content marketing and monetizing social media presence will also be on the agenda.
Anyone with a phone, computer or tablet with an internet connection can attend the Social Media Week, and it will be possible to get internationally acclaimed certifications for attending some of the courses.
KingsChat and CeFlix are teaming up
KingsChat and CeFlix, who are teaming up in the launch of the week-long online conference, are both highly popular in the LoveWorld community.
KingsChat is the social media platform used in the ministry led by Pastor Chris Oyakhilome where people can post, comment, like and share views as well as get information about what is up in the Christ Embassy community.
CeFlix is a video and streaming platform created by Christ Embassy with the intention of making divine messages easily accessible to everyone.
On CeFlix, you can watch Christian news, prayer services, concerts, music videos, award shows and much more. The website also streams all LoveWorld events live and uploads them afterward for on-demand service so you can watch them on the go.
Lots of activity during the pandemic
The Social Media Week is only the latest event initiated by Pastor Chris during the COVID-19 pandemic.
When the Coronavirus broke out earlier this year, Pastor Chris Oyakhilome and Pastor Benny Hinn hosted a Global Day of Prayer against the virus, which 3 billion people tuned in to watch.
Afterward, Chris Oyakhilome launched a week of praying and fasting, and it has been extended time and time again. The latest "Your LoveWorld with Pastor Chris" prayer week ended on Sunday, July 19th.
The pastor has not only been praying, though. Throughout the pandemic, Pastor Chris Oyakhilome has been helping people and ministers in dire need around the world, including in the UK, Canada and Nigeria.