Events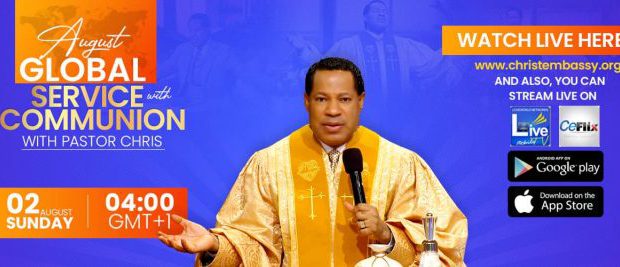 Published on July 30th, 2020 | by Alberto Krinsky
0
August's Global Communion Service around the corner
July is coming to an end and the same goes for Month of Productivity. On Sunday, August 2nd at 4 PM GMT+1, Pastor Chris Oyakhilome will present the theme of August during his monthly Global Communion Service. The event can be watched live on all LoveWorld networks.
It was at July's Global Communion Service that "productivity" was chosen as the theme of this month.
"God is going to bless the works of your hands. Marvelous blessings in your life. Every effort will be rewarded with tremendous results, far more results than you expected. You are going to be so productive by the blessing of God's Spirit. This is what will happen to you this month, hallelujah," Pastor Chris said during the broadcast.
"Thank Him for it, and as He guides you, whatever He tells you to do it, do it. The experience is an amazing blessing in your life, in the name of Jesus, hallelujah, hallelujah, give Him praise, worship Him, thank Him," he continued.
Goodbye to the Month of Productivity
Chris Oyakhilome and the Christ Embassy congregation sure has been productive this month.
While the COVID-19 pandemic has continued its worldwide rampage, the pastor has given even more food relief packages to people and ministers in dire need around the world, including in the UK, Nigeria and Uganda.
Pastor Chris Oyakhilome has also extended his popular "Your LoveWorld with Pastor Chris" prayer weeks through the Month of Productivity. The third phase of the second season ends tomorrow, Friday, July 31st.
Additionally, the LoveWorld platforms KingsChat and CeFlix are hosting a Social Media Week that ends on Saturday, August 1st.
A week that Pastor Chris Oyakhilome has called both "amazing, very powerful, enlightening and empowering."
Not too late
The Social Media Week offers 70 seminars, 42 workshops, 14 product reveals and 14 keynotes in total.
So far, participants have been witnessing lectures like 'Privacy Violations – The Dark Side of Social Media,' 'The Politics and Business of Data,' 'The Control and Silencing of the Church and Conservatives' and 'Connect, Engage and Build Your Brand.'
According to the LoveWorld nation, the purpose of the Social Media Week is to empower people to maximize the readily available technological tools for wealth creation, economic growth, career path interest and personal development in specific areas of interest.
Anyone with a phone, computer or tablet with an internet connection can attend the Social Media Week, and it is possible to get internationally acclaimed certifications for attending some of the courses.
You can register for the conference and watch it live here every day at 12 PM GMT+1.