News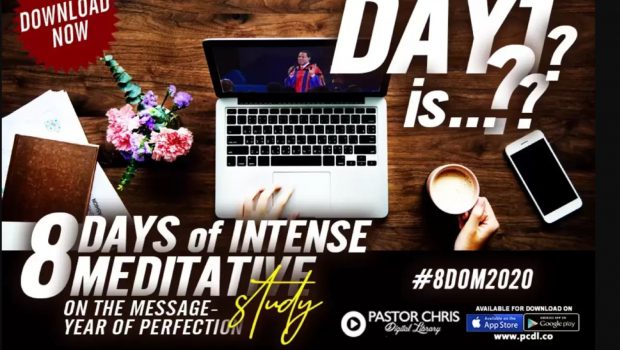 Published on February 23rd, 2020 | by Walter Smith
0
8Days Of Mediation – Global Study Sessions
With its aims of increasing and multiplying the awareness of the New Year's Eve message, the study guide is now available for download. This is another opportunity to send waves of inspiration to friends, family, and colleagues.
When Pastor Chris enlightened the global LoveWorld family with the prophecies enshrined in the theme word of the year there was a heightened sense of excitement amongst the brethren. The 'Year of Perfection' was billed to be a huge leap forward in spreading the message of the Gospel to all the nations of the world.
Activate the Perfection of God in your spirit through the 8Days of Meditation. Study the message that is 2020'The Year Of Perfection'. Kindly download the study guide here and look at the curriculum that has been planned for the next eight days.
Watch
As you watch the selected clips you will increase in grace as you will fill with the Word. These clips will be available from the Pastor Chris Digital Library. These memorable and insightful moments will be yours to own and treasure.
Pastor Chris Oyakhilome prophesized that "in the first three months of practicing what you've been taught in the wisdom and instruction of God, you will think you've done a year." Think about the amazing events that have taken place. The Word id spreading, millions of people have been reached with prayers and teachings. Glory to God.
Study
You will have an exciting opportunity to look at selected scriptures and learn their meaning in your life. Pastor Chris will share astounding insights that will alter courses. There will be thoughts, revelations, and impartations to take your understanding of 'Perfection' to a whole new level.
Meditate
The selected scriptural passages will be shown to you to meditate on. They have been chosen by the Man of God Pastor Chris for you. With a heightened level of understanding, you will know what Christ will do in you. This year has begun on a level of overflow and with advanced scriptural knowledge, you will be set for glory as you meditate on the selected passages.
Affirm
Saying the affirmations of your newfound connection to the Word are life-changing. When Pastor Chris teaches and we have understood his message the affirmations are soul-stirring. These affirmations will ignite the messages you have watched, studied and meditated upon in your soul. Your daily interactions will be more profound as you feel His grace work in you.
Record
Keep a journal of the thoughts and inspirations that come to pass as a result of '8Days of Meditation.' Share them on KingsChat with the hashtag #8dom2020 #2020theYearofPerfection and inspire those who read them. Each testimony shared will serve to bring someone to a life in Christ. These next eight days are going to move something in your life and the miracles that will occur will be life-affirming. Thank you Pastor Chris Oyakhilome for making these 8Days of Mediation available to the global congregation.