Events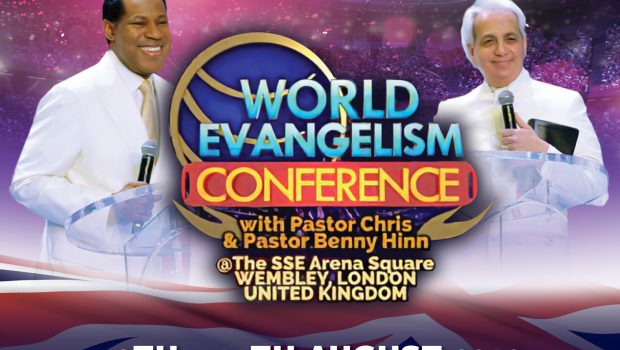 Published on July 29th, 2019 | by Gabriele Adbbe
0
World Evangelism Conference with Pastor Chris (2019)
The time is quickly approaching as pastors, leaders, and evangelists worldwide anticipate one of the greatest awakening conferences of their time! The World Evangelism Conference is taking place in the second weekend of August, Friday 9th – Sunday 11th and is the first of its kind global convergence of ministers of the Gospel, Church Pastors, and Leaders. This 3-day conference will provide training, equipping and impartation that is necessary for all believers in these last days.
The time is pressing upon us and we must partake in the stretching and strengthening now in order to preserve it in the end, when we will only be left with our complete surrender to God. Leading the incredible service will be the man of God, Pastor Chris Oyakhilome, President of LoveWorld Inc., and alongside him will be Pastor Benny Hinn, President, and Founder of Benny Hinn Ministries. This will be one arena filled with some of the most powerfully devoted ministers of the kingdom of God and you do not want to miss it!
If your heart is for evangelism and telling everyone about the loving-kindness of Jesus Christ who saves us and gives us everlasting life with God, then this is exactly where you need to be! The conference is powered by the International School of Ministry (ISM) and will host ministers from over 180 countries around the world. You can guarantee that when these fiery ministers gather in one Spirit

The World Evangelism Conference will take place at the SSE Arena, in Wembley, United Kingdom and it promises to be an unprecedented time of training, blessings and impartation of graces for greater and more effective ministry. If you will have the life-changing opportunity to be a part of this event, you will experience plenary sessions, workshops, specialty-focused breakout sessions, exhibitions, a welcome luncheon, a prestigious awards ceremony and MORE!
Pastor Chris Oyakhilome declared the conference to be an "Increase of glory, greater manifestation of the kingdom of God through us." In sharing with Christ Embassy members, Pastor Chris claimed that we are going to do greater things than we have ever done before and the world is going to hear this before Jesus comes back! Amen!
This is a landmark conference expected to release the Spirit of God for global evangelism awakening! If you are in need of a fresh zeal, passion, and fire for soul-winning – Your attendance is welcome and expected! This conference is for the intention of strengthening the global Church in furthering the ministry of evangelism that we are all called to as followers of Jesus.
If you would like to register for the conference or interested in more information – visit the registration page and have all your questions answered from there.
We hope to see you soon!