Events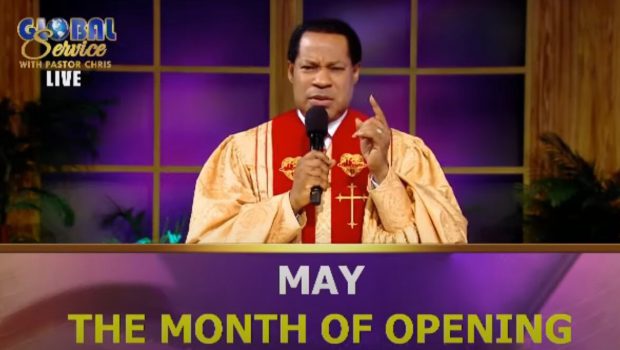 Published on May 4th, 2020 | by Gabriele Adbbe
0
Pastor Chris declares May the Month of Opening
May and spring have arrived and so has a new theme from Pastor Chris Oyakhilome. During Sunday's Global Communion Sunday Service, the Pastor declared May as being the Month of Opening.
"This month I have quite an interesting message. I was a little amazed, but it is interesting. I wonder what to make of it, but it is the month of opening. And I believe God is doing something very special in the lives of individuals, families, institutions, cities and nations around the world," he said after his announcement.
Pastor Chris Oyakhilome then went on to address the great things that God has in store for us in May.
"What does this mean? Is he opening your heart? Is he opening an opportunity? Is he opening a door? Is he opening a city? Is he opening a nation? But it is the month of opening. And God's spirit is at work. This month, not only will there be an experience of it… There will be a projection of it. Hallelujah. Thank you, Lord Jesus," he said.
The impact of the prayers
The almost two-hour-long service also featured a performance by the world-famous gospel singer Sinach and a welcoming prayer led by the esteemed Pastor Lanre Alabi, director or Church Growth International.
During the event, analysts from the LoveWorld SAT studio in South Africa discussed the global impact of the many weeks of prayer for the nations that Pastor Chris Oyakhilome has led.
Detailed analysis of remarkable changes witnessed around the world as a result of the divine revelations, teachings and prophetic declarations by Pastor Chris Oyakhilome were given in the report, featuring highlight videos.
Additionally, participants from around the globe testified to the impact of the four weeks prayer program with the Pastor in a featured video.
New Your LoveWorld prayer week added
During the Global Communion Sunday Service, Pastor Chris Oyakhilome announced that an extra week of Your LoveWorld prayers has been added. The prayer week, which is the fifth of its kind, kicks off Tuesday, May 5th and ends on Monday, May 11th. All of the prayers will be available for streaming on all LoveWorld networks at 7 PM GMT+1.
Pastor Chris Oyakhilome's Your LoveWorld prayer weeks have proven to be very popular. The first week started after the Pastor hosted a Global Prayer Day against the Coronavirus on March 27th and has from then on been extended every week.
The Global Prayer Day has watched live by 3 billion believers from all over the world, while the Pastor's Easter Sunday Service in April reached 3.25 billion people.
Maybe the new Your LoveWorld prayer week will be able to beat those numbers.
If you did not watch the Global Communion Sunday Service, you can catch up in the video below.