Events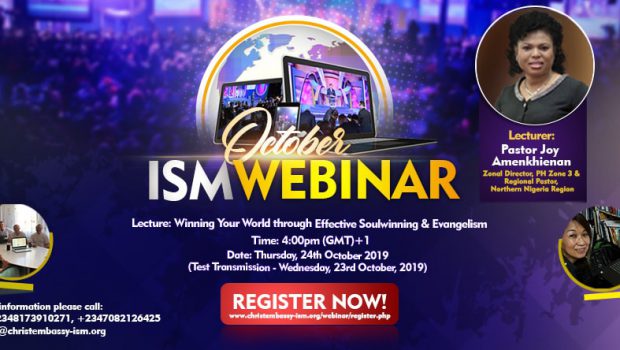 Published on October 22nd, 2019 | by Alberto Krinsky
0
Making An Impact In The Month Of Ministry With A Webinar Of Wonders
Discover principles for a life of ever-increasing success and impact for the Gospel. Make plans today to participate in a webinar that will make your life more purposeful.
Month Of Ministry Is Reaching A Climax
The Month of Ministry has proved to be a month of exceptional miracles and the unlimited power of His Spirit. As we continue to strengthen our devotion this October we continue to reach out into the world and do God's work. We see the success every day as new souls are brought closer to Jesus Christ, Glory to God.
This path is not without its difficulties. Our man of God Pastor Chris fortifies us and reminds us of the Glory of the Spirit that resides in each and every one of us. In this Month of Ministry, we now have a fantastic opportunity to finish the month strong for the Lord.
We have a chance to receive insightful teachings on how to win souls. We can end the year as winners. On Thursday, 24th October 2019 at 4 pm (GMT) + 1  The International School of Ministry is staging a webinar to empower all the participants. Pastor Joy Amenkhienan, Zonal Director Christ Embassy Port Harcourt Zone 3 is delivering a lecture:
Winning Your World for the Gospel through Effective Soulwinning & Evangelism.
Esteemed Pastor Joy Amenkhienan is an influential preacher and a role model to many. She has shared her testimony of being born again and we have the honor of hearing the Wisdom she has learned.
"By the grace of God, I've been expressive, fervent, exuberant and even flamboyant about my salvation."
This webinar is free. Sign up here. It is an opportunity to learn how to reach out to people and spread the Word of God. We have a mission to share the Good News and invite more souls to be filled with the Light Of God. Pastor Chris has shared the most important idea in Rhapsody Of Realities.
"The principles, relationships, and actions… control your plans, your purposes, and your pursuits in life"
The confession at the end really impacts on the importance of being:-
"under the influence and dominion of the Word, and perpetually in the way of the Holy Spirit. Thus, my spirit is energized for victory and success, in Jesus' Name. Amen."
With this idea in mind sign up for the webinar and learn how to win souls. Being motivated is an important factor in success. Having a great mentor in Pastor Joy Amenkhienan is a huge bonus to adding to your evangelism. You will be able to strategize more clearly and to understand how to engage in soul-winning activities.
Build on the brilliance of your previous learning and pray that you will bring souls to the Ministry of Our Lord Jesus Christ. The Chris Embassy and Pastor Chris Oyakhilome have guided us to the Gospel. Let us give that opportunity to others so they have a chance to feel the power of salvation. Hallelujah!