Uncategorized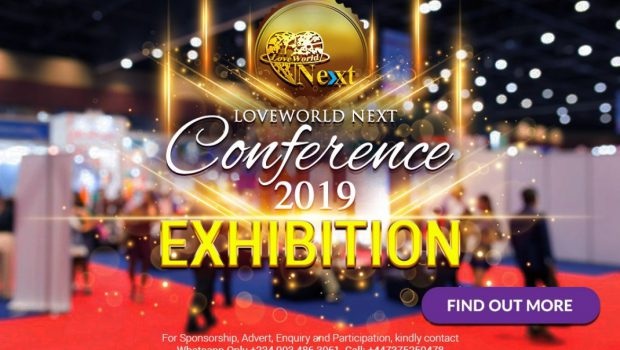 Published on July 24th, 2019 | by Gabriele Adbbe
0
LoveWorld NEXT Conference 2019
Have you felt torn between finding your place professionally, while also using your skills to serve the Lord? Perhaps you know well your spiritual giftings but you do not know where to best use them in the professional world. Well, there is no avoiding one or the other and as devoted followers in Christ, we must learn how to be the best stewards of the things we have on earth.
LoveWorld has made a great impact on the lives of young adults and professionals through several programs, foundations, awards, grants, training, and more! When it comes to the Kingdom life operating in the physical realm, LoveWorld has you covered with the highest level of teaching and coaching you can get.
LoveWorld Next is a conference that focuses specifically on grooming and establishing young leaders for Jesus Christ. This annual conference is exciting and encouraging as it allows you space to grow deeper in devotion and reverence to the Lord, through your professional and practical needs and lifestyle focuses.
God calls us all to a standard of excellence and in this day and age, that includes the area of our finances. The LoveWorld Next conference is a time to be imparted with wisdom and knowledge on the way in which you can best foster and steward sustainable investments for the future.
The conference hopes to achieve the following three things:
Empowerment to view the current situation as an opportunity to help and become a part of the grander development of your community. With this, LoveWorld Next intends to make efforts and strides towards alleviating poverty on a national level. What a goal!
Information services about your business and business ideas. You will have the opportunity to share your plans with investors and learn how to best present your business to others, in order to pitch your ideas and get others on board.
Lastly, the LoveWorld Next conference promises to provide a support system for your growing business and further training through follow-up meetings. This follow-up support is meant to ensure the development and strategic growth within your company as you move forward into the world with new grants and monetary provision.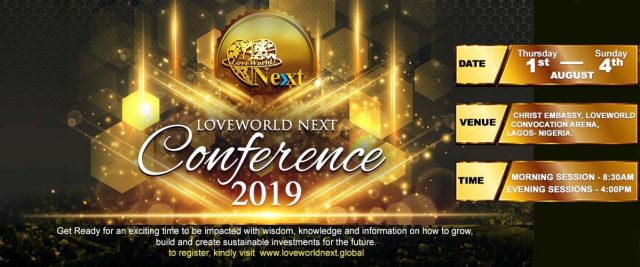 The dates are August 1st – 4th and will take place at the prestigious Christ Embassy, LoveWorld Convocation Arena in Lagos, Nigeria.
Each day, there will be two sessions held. The morning sessions will begin at 08:30 AM and the evening sessions will take place at 4 PM.
The conference for 2019 is only a week away, so don't miss the registration! Click here to sign up and come prepared to have your professional career changed by the wisdom and knowledge that God will impart to you through His Kingdom of resources!