Events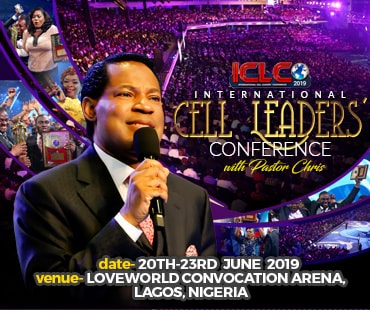 Published on June 17th, 2019 | by Walter Smith
0
2019 International Cell Leaders' Conference with Pastor Chris – THIS WEEK!
It's the glorious time of year again when those most eager to progress in godliness and leadership come together for the annual International Cell Leaders' Conference with Pastor Chris. Year after year, this gathering of Kingdom laborers serves as a great catalyst for the growth and transformation of any ministry. As pastors and leaders constantly pour out wisdom and revelation over their congregants, this conference is one of great refreshment for them. It is a time to be filled and encouraged to continue the mission genuinely and wholeheartedly for God.
Looking Back
The 2018 ICLC with Pastor Chris was an event to remember. From June 25th – 29th, leaders in the faith from all over the world were strengthened by the inspired teachings on cell development and how this system can transform your ministry from the inside out. The 2018 conference kicked off with a vivacious opening ceremony of music and dance performances by the Believer's LoveWorld Campus Ministry. Expect nothing less of this year's International Cell Leaders' Conference with Pastor Chris, as the 2019 Year of Lights serves us continuous moments of powerful revelation and wisdom.
Last year, Christ Embassy and the LoveWorld Nation experienced the year of the supernatural as directors, delegates, and several highly esteemed leaders gathered in the thousands for deepening revelation and an increase in leadership development. The ICLC with Pastor Chris has served as a time for God to speak promises and direction over His Church. All in attendance received incredible teaching and revelation from respected leaders such as Secretary-General Pastor Kay Adesina, Zonal Director of the Cross-River Virtual Zone Pastor Vale Odu-Thomas, CEC Member and Director of Church Ministry Reverend Tom Amenkhienan, and finally our President and admired Man of God, Pastor Chris Oyakhilome.
What's to Come at This Year's International Cell Leaders Conference with Pastor Chris
You do not want to miss this gathering of innovative and intentional ministers of the Word of God. Take part in the International Cell Leaders Conference with Pastor Chris and bring something fresh and new back to your ministry. If you hold a position of leadership and stewardship, this conference is for you. The Lord wants to use you in the stretching and refining of His Church, and its through the cell model of ministry that we can truly reach every child of God and make a great disciple out of him.
If you plan to be in attendance, come expectant for a weekend filled with fellowship amongst other esteemed leaders, symposiums, workshops, question and answer sessions, open panels and so much more. There is no ICLC without the one who bestows his leadership upon us all within the LoveWorld Nation. Man of God, Pastor Chris Oyakhilome will be sharing new inspiration for you and your ministry that you do not want to miss.
The ICLC is highly regarded by Pastor Chris, as the point of this conference is to learn how to best relay and live out the gospel of Jesus Christ. With these transformative teachings and unforgettable moments of revelation and impartation, we grow closer to the coming again of our Lord and Saviour Jesus Christ. In that day, He will return to a spotless bride ready to receive Him in all His glory.
"Prepare your life, Jesus is coming again for a church without a spot, wrinkle or any blemish, a church that is holy and undefiled, a church that is living and walking in faith" – Pastor Chris, ICLC 2018
Whether you are already a Cell Leader in the LoveWorld Nation, a Bible Study Class teacher, or a Cell Executive, this annual conference is meant "to reignite, inspire and fuel our passion for soul winning and global evangelism." Join the LoveWorld Nation for this foundational 3-day experience at the prestigious LoveWorld Convocation from June 20th-23rd.
For more information, visit Pastor Chris Online or Pastor Oyakhilome Events and register NOW!
You can also follow the event on Kingschat for more updates.