Events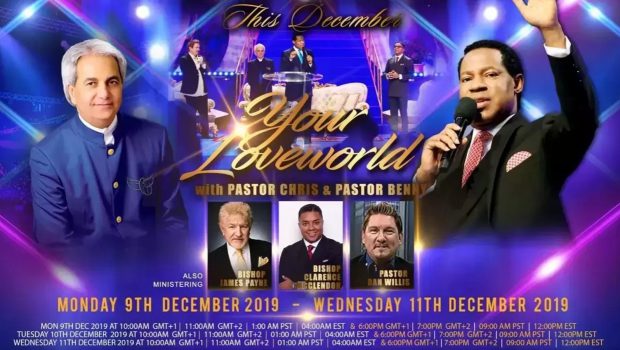 Published on December 4th, 2019 | by Gabriele Adbbe
0
Your LoveWorld With Pastor Chris And Pastor Benny-Coming Soon
We're incredibly pleased to tell you that Pastor Chris Oyakhilome and Pastor Benny Hinn will be coming to your screens on December from Monday 9th to Wednesday 11th December 2019. Your LoveWorld will be coming to millions around the world with live ministrations of God's word by the Man of God Pastor Chris. In this three-day life-transforming telecast you have a chance to join Pastor Chris and Pastor Benny for an exceptional time with God's spirit and God's word.
What is Your LoveWorld?
It is a time to hear the word of God through anointed ministers. You will even have a chance to pray over the phone with these exceptional ministers of the Gospel. Bishop Clarence McClendon, Bishop James Payne, and Pastor Dan Willis will also be in attendance.
Previously participants have recorded that you will feel the presence of the Spirit during this event as Bishop Clarence McClendon has said: " no one has the right to say what is possible for you or impossible but the Spirit of God." Bishop James Payne said it is a season of growth, "when God is trying to take you to another level of harvest, he has to take you to another level of sowing." You can only grow during these ministrations. The hope is like Pastor Dan Willis sums up, they "want  for the viewers to be touched by the Spirit of Jesus at LoveWorld."
Spread the news that it will be shown on all LoveWorld Networks from Monday 9th December 2019 to Wednesday 11th December 2019.  "After this, we will be discussing things on a whole new level," Pastor Chris says so" don't miss it for anything." You can participate, get all your family and friends to partake by tuning in on all LoveWorld Networks, Live TV app and on CeFlix.
What can I expect during this praise-a-thon
Your LoveWorld is a Praise-A-Thone with Pastor Chris and Pastor Benny Hinn that is specially choreographed to bring God's people to an understanding of Kingdom prosperity. Get ready for Your LoveWorld Praise A-Thon as Pastor Chris and Pastor Benny Hinn answer all the questions on your mind concerning Kingdom prosperity. Share with us your expectations
God's generals, Pastor Chris and Pastor Benny Hinn, will be live on all LoveWorld TV Networks the program. It will also be streamed LIVE on Hello LoveWorld, and other internet platforms. Pastor Benny Hinn says that "LoveWorld is a plan of God. It is not an accident. God didn't do it by mistake. He knew exactly what He was doing and on time."
Pastor Chris asks, "What are we doing here, we are helping you get access to regions of the spirit which if you never understand you will never be able to operate there."
Billed as a unique program offering viewers the occasion to hear divine inspiration from God's Word. As the month of "Blessing in Thanksgiving" powers ahead, you will increase in knowledge with this special impartation of God's Spirit. This is a time for upliftment and all-round prosperity. These final episodes for the year promise to be extraordinary in all ways.
Kindly be ready in advance of the live screening.