Events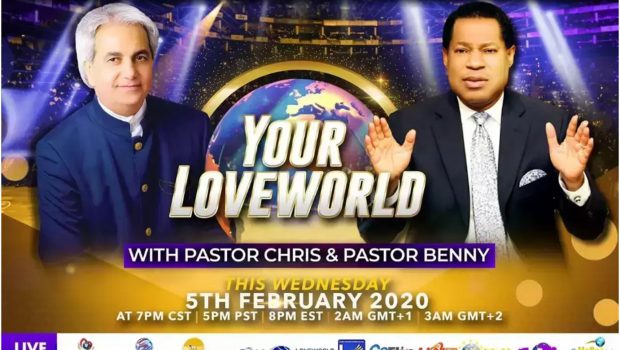 Published on February 4th, 2020 | by Gabriele Adbbe
0
Your LoveWorld Live From Houston Texas
For the first time during the 'Year of Perfection' you can join Pastor Chris Oyakhilome and Pastor Benny Hinn for a special love 'Your LoveWorld' broadcast from Houston, Texas on Wednesday, February 5th  at 8:00pm Eastern Time or 5:00pm Pacific Time. It is an eagerly anticipated night of music, ministry, and miracles.
Watching 'Your LoveWorld' will give you profound insights into many topics that affect our lives daily. The many segments are delivered with warmth and humor. It is truly remarkable when Pastor Chris and Pastor Benny come together and lead the global community in acts of prayer and worship.
Pastor Benny Hinn
Pastor Benny Hinn is a respected minister of the Gospel. He embraces the Saints of the world and explains the sanctity of the word of God. His messages unify Christians across the world as he talks deeply about the message found in the Gospel.
In a previous edition of 'Your LoveWorld' he has illuminated the scriptures so profoundly we can see how to make positive choices, so we accept the Gospel of Jesus Christ in our hearts. He shows us how to become active Christians and reject the devil, so we remain on the path of true righteousness. He is a teacher and minister who helps us walk in the Holy Spirit and sing songs in His praise.
Months of Songs
In February, which we know as the 'Month of Songs' the global audience is anticipating music to lift our souls to a higher level. The amazing gospel ministers and choirs that reveal messages of love enhance these superior times of worship and prayer.
The LoveWorld USA network is a special network where the message of the Gospel is spread with blessings that will change the course of your life. During 'Your LoveWorld' there are ministers brought together to help you get into regions of the Spirit. Pastor Chris Oyakhilome will bring you to new levels of understanding to receive the Grace of God.
God has raised Pastor Chris and Pastor Benny to give the global audience access to the Kingdom of the Spirit. In praying to God together and praising all he has done for us viewers will have an amazing opportunity to change their whole world. As children of God, we are privileged to have this new level of Grace delivered to the world in levels you have never seen.
The active Christian that we are encouraged to be will come alive when you think about what you can do for other people. These ministering will show you what others cannot see or hear. This broadcast will teach you the life of righteousness and propel you on a path to doing more with your life as you discover Christ in you.
It is mesmerizing to watch and listen to these life-changing ministers come together to put stories of hope into the hearts of the Christian brethren who tune in. Watch on DirecTV Channel 366, the LiveTV Mobile app and online.