News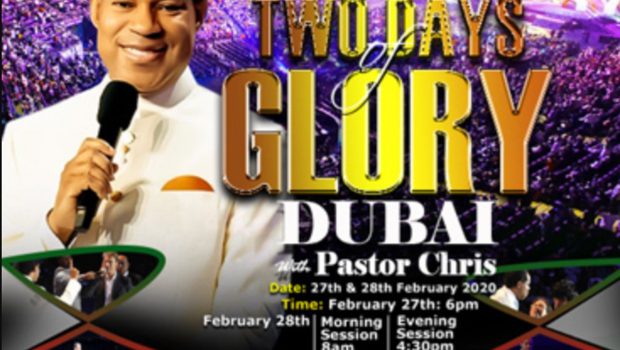 Published on February 4th, 2020 | by Gabriele Adbbe
0
Two Days Of Glory In Dubai
Can you imagine 'Two Days Of Glory With Pastor Chris?' Would it not be a rhapsody of divine praise that will elevate you to another level. It is going to be a soul-stirring event in the heart of the Middle East. This epochal event will have you lifted from glory to glory.
Get ready to sing, dance and be enraptured in divine adoration. There are three sessions to attend and hear the Man of God Minister in Dubai. Each one is going to be held at the Coca-Cola Arena City Walk which is situated in the heart of the capital of this beautiful city in the United Arab Emirates.
This stadium can hold up to 17,000 people and many will be traveling from all over the world to this luxury travel destination. It would be a life-changing experience to be part of this event.
Air Flourish Travel and Tours
The best way to ensure that you arrive in style and on time is to book through Air Flourish Travel and Tours. This service was formally known as Verve Travel Agency and is the premier travel agency of the Believers LoveWorld Nation. It provides a premium travel experience for members of the BLW Nation and to people from all over the world.
This business is the vision of our Man of God and they are surpassing themselves with unprecedented service. Through their knowledgeable advisors and agents, it is their mission to save clients time and money.   Our expertise goes above and beyond the ordinary as we provide our clients with relevant information about upgrades, discounts and offers to keep the cost of your trip to a minimum. You can enjoy it to the maximum.
Visiting Dubai For the upcoming Two Days of Glory
Air Flourish is offering a one-stop package including all flights, tickets, accommodation, and transfers. The Two Days of Glory in Dubai is on the 27th and 28th of February. Contact a travel agent today. They also offer a 'FlyBank' service where you can pay for your trip in daily, weekly or monthly installments.
This financial management service can be used to plan all sorts of holidays and trips. The professional agents are on hand to give first-rate advice about destinations, activities, and transport to many parts of the world.  They know about a wide variety of options.
Send an email today whether you are planning a honeymoon, a business trip or a family vacation Air Flourish Travels and Tours has the perfect package for you.
The Two Nights of Bliss in Dubai will herald a new era of soul winning in the Middle-East. Pastor Chris prophesied that this year will bring a harvest of souls to Christ's Kingdom. In this 'Month of Songs,' Christ Embassy will be singing the songs of praise and worship in new places around the world.