News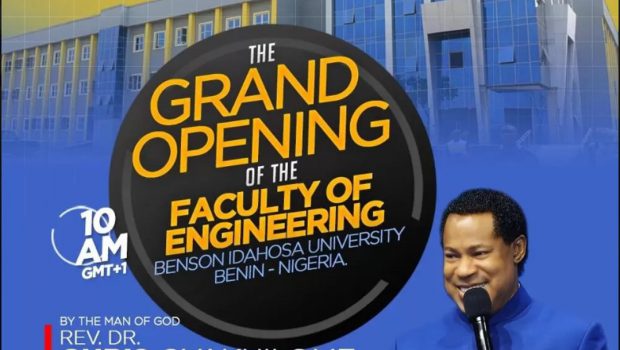 Published on March 11th, 2020 | by Gabriele Adbbe
0
The Grand Opening of The Dr. Chris Oyakhilome Faculty of Engineering At Benson Idahosa University
Bishop Feb Idahosa noted that "it takes a village to raise a child." In his powerful speech, he went on to say," I want to amend that today to say it takes a community to build a legacy. A legacy must come first by vision. Someone casts the vision and says this is what we are, where we are going, then that legacy is built by the community. "
There was a carnival atmosphere as the student's dreams were going to be fulfilled. Thousands gathered to witness the opening of the new Engineering department at the Benson Idahosa University. Music created an atmosphere beyond compare as there was much to celebrate and rejoice for.
One Man's Shared Vision Is a Reality and A Legacy
On October 23rd, 2015, the Man of God gave 1 Billion for the building of the Engineering Faculty of the Benson Idahosa University. It has come to fruition and on March 10th, 2020, Rev Chris Oyakhilome DSc. DD. officially opened it in Benin City Nigeria. This is a demonstration of its commitment to education and youth empowerment.
Chancellor's Speech – Archbishop Margaret Benson Idahosa
The grand occasion was graced by many high-profile dignitaries from across Nigeria, including ministers of the Gospel and top government officials. The Oba of Benin Kingdom, Oba Ewuare 2, and other royal fathers from across the Niger-Delta Region of Nigeria were amongst the distinguished guests.
The Chancellor of the University, Most Reverend Margaret Benson Idahosa, the President, Bishop Feb Idahosa, and the entire Benson Idahosa University family heartily received Pastor Chris and guests at the event.
Reverend Margaret fondly spoke of Pastor Chris' teenage years, how he worked at the Church of God Mission International and would spend time looking at Archbishop Benson Idahosa's crusade pictures that were displayed in the halls of the ministry. She told the whole world that Pastor Chris was a part of the University family before he birthed the family known as the LoveWorld nation.
She noted that this is the 'Month of Knowledge' and that due to this state-of-the-art faculty knowledge would increase. She prayed that God would remember these gifts and multiply them.
"A good man or woman leaves an inheritance to his children's children." She prays that this seed Pastor Chris has planted will pay dividends for many generations to come. She was happy to thank God for His Vision and His Way.
"I am its legacy"
Pastor Chris thanked the late Archbishop Benson Idahosa for building a legacy to promote education. The university is also a conduit for the spreading of the Gospel around the world. He remarked that the ministry of the late Archbishop has directly and indirectly impacted every Christian organization in Nigeria, Africa and the world beyond.
This University is very important to the country as it has touched the lives of so many. Pastor Chris counts himself as highly honored to be a part of this legacy. He thanked Archbishop Margaret Benson Idahosa for her love. He told the gathered assembly that he called her "Mama". This a term of love and respect that has him on his knees. Pastor Chris said he is a graceful son and by the Grace, the campus will go from one level to the next.