Events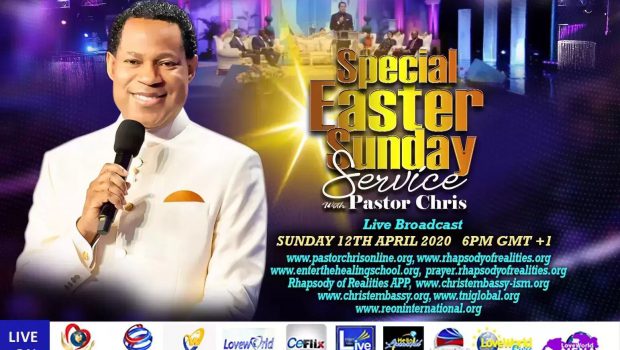 Published on April 12th, 2020 | by Gabriele Adbbe
0
Special Easter Sunday Service happening today
"Praise be to the God and Father of our Lord Jesus Christ! In his great mercy, he has given us new birth into a living hope through the resurrection of Jesus Christ from the dead." (1 Peter 1:3)
On Easter Sunday, Jesus Christ resurrected from the dead, three days after he was crucified by the Romans in Jerusalem. Every year, Christians from all over the world celebrate this special time where God gave up his only son to free us from our sins.
Every country and every Christian community have different Easter traditions, but the eternal belief in God and the gratitude for his son, Jesus Christ, remains the same throughout the world.
A new phase of glory
In the LoveWorld community, we celebrate the holiday with a Special Easter Sunday Service with Pastor Chris Oyakhilome today, Sunday, April 12th, at 6 pm GMT+1. The highly anticipated service will be available for live streaming on all LoveWorld networks.
Billions of people from all nations and territories are expected to tune in for the service that promises to launch God's people into a new phase of glory.
The significance of Easter and the victory of the Church in Christ Jesus will be re-enacted. It is going to be an atmosphere for miracles, salvation and the outpouring of fresh grace upon all participants.
On the occasion of Easter, the Pastor Chris Digital Library will be gifting the message "Who is Jesus" to new converts during the Special Easter Sunday Service. The mission is to introduce the new believers to who Jesus really is.
Special service for teens
Pastor Chris Oyakhilome's organization for teenagers, Believers' LoveWorld Teens Ministry, is also hosting an Easter Sunday service for youth and teenagers today. In order to participate, you must create an account and login on the Ministry's website.
Believers' LoveWorld Teens Ministry is known for having affected millions of young people from all over the world. Many of these have dedicated their lives to reaching other young people and handing over the message of God.
The end of two weeks of prayer
The Special Easter Sunday Service and the teenage service not only mark the celebration of Easter, but also the end of Pastor Chris Oyakhilome's two weeks of prayer.
Day in, day out, he gathered people from all continents to pray against the Coronavirus and for the healing of all nations.
Our Man of God, Pastor Chris, also hosted a Global Prayer Day against the Coronavirus with Pastor Benny Hinn on March 27th, which was streamed by 3 billion people worldwide.