Events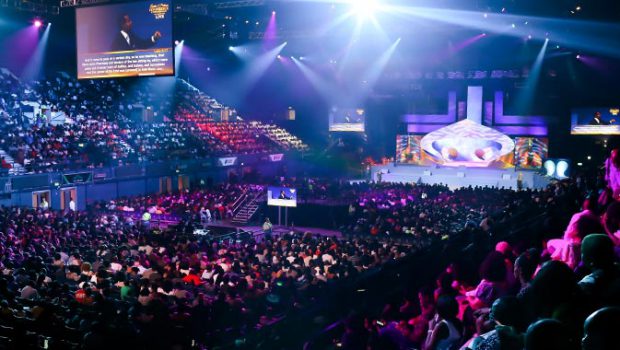 Published on September 27th, 2018 | by Walter Smith
0
South African Leaders and Partners Conference with Pastor Chris!
Get ready for another conference with the man of God, Pastor Chris Oyakhilome! The Pastor will be making an appearance in South Africa, Johannesburg this month for the South African Leaders and Partners Conference.
The event will take place at the Ticketpro Dome in Johannesburg South Africa from the 28th to 30th of September. The conference has been held in many countries in previous years, such as Ghana and various spots in the United Kingdom. Now, after a lot of demand, finally in the year 2018- the year of the Supernatural, it is coming to South Africa!
This is a special program was a massive success in UK
The event was recently was held in London at the famous The SSE Arena, Wembley. The conference was a refreshing and uplifting three-day seminar for BLW minsters of the UK region and was reported to have an overwhelming attendance. This time delegates and community leaders of Southern Africa will be fortunate enough to be graced with the presence of the man of God and his powerful teachings.
Pastor Chris is back to make an"impact with the word of God".
The conference promises to be three days "of fellow-shipping with God's word and the impartation of spiritual gifts" to the thousands of participants who are seeking to do more with the exploits of God.
The three-day event is open to tens of thousands of dedicated attendees from the South African region, with nations that include South Africa, Zimbabwe, Botswana, Mozambique, Lesotho, Namibia, Zambia, Swaziland, Angola and Malawi. The previous event kicked off with an inspiring address from the highly esteemed Regional Pastor of Christ Embassy Southern Africa, Pastor Ose Oyakhilome. Attendees were left "charged with excitement" and shouting with rejoice. It was a note-worthy beginning to an incredibly inspiring three-day journey
The SALPC 2018 will consist of several sessions that intend to inspire and inform all delegates.
The will be a series of inspiring testimonies, informative and penetrative talk shows that promise to significantly and collectively uplift ministry members. Delegates will embark on an insightful three-day conference that promises to grant them with all the power and upliftment possible, so that they may spread the fervor onward to others. Blessed Pastor Chris and this golden glorious opportunity!
The man of God will stir the thousands of delegates and partners with crucial points from the scriptures!
He will charge regional members to embody the consciousness of our Lord Jesus Christ. Members, spiritual leaders and delegates, prepare yourselves for this wonderful ministering of partners and leaders. It is time for an upgrade of visitation of the spirit. To check out more events and updates, stay tuned for more information on our website. 
Watch some of the highlights from the last SALPC of 2015