Events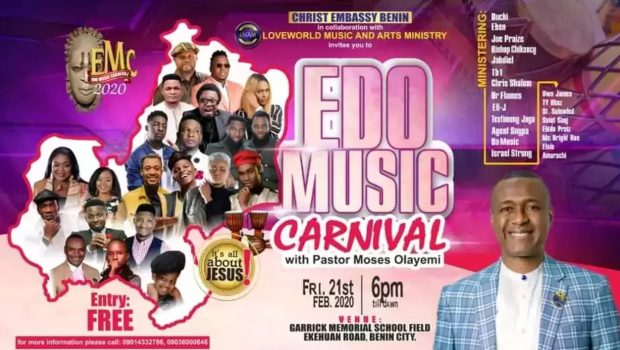 Published on February 12th, 2020 | by Walter Smith
0
Soul Winning Events Are Taking Nigeria By Storm
There was a special day dedicated to soul winning by Christ Embassy group of Churches in northern Nigeria. Members of Christ Embassy Nigeria, North-West Zone 1, embarked on a special outreach tagged "Day Of a Thousand Souls for Christ."
There is a clear understanding of the need to reach out to lost souls with the Gospel of Jesus Christ. Many Gospel activists came out together to spread the message of Christ's saving power. The soul-winning campaign was disseminated through major cities and towns across the region including Kaduna, Kafanchan, Zaria, Sokoto, and Kebbi.
"For you are our glory and joy"
Infused with the desire to evangelize the nation and bring the knowledge of the transformative life you have in Jesus Christ members of Christ Embassy were engaging in their mission. Many souls came to Christ through this outreach. There was an outpouring of joy in heaven as each soul that was won can continue growing in glory to God. So much was achieved in one day. Glory to God.
Edo State Music Carnival Pastor Moses Olayemi
This February is the 'Month of Songs' so members of the LoveWorld Nation are singing in praise of the Lord. The Loveworld Music and Arts Ministry has produced some of the most amazing Gospel Ministers of our generation and there is great news. Many of these stars will be converging in Benin City for the Edo State Music Carnival.
This free event is eagerly anticipated and TB1 took to KingsChat to tell everyone about the event. He will be ministering alongside many of the other Gospel Ministers. Testimony Jaga will be there in Benin City preforming his tracks to everyone as part of this special time. Chris Shalom will be at this Holy Ghost Party and the thought of seeing and hearing so many Gospel ministers during the 'Month of Songs' is truly magnificent. Eben also invites you to the Edo Music Carnival with Pastor Moses.
It is all about Jesus
Benin Zone One has said, you ain't seen anything yet. They are blazing new trails and setting the pace for soul winning. The publicity for this event is taking the area by storm. With 500 new recruits to the Ogida Police Training School already reached by Pastor Juliet ahead of the carnival they breaking records and fulfilling Prophesy.
There has been a huge outreach and many people are now looking forward to this free event at is all about Jesus. It will be a chance to hear Eli J, Jahdiel, Joe Praize minister. This is the first of its kind event in Benin where so many Gospel Music Ministers will be sharing their praise and worship songs.
Edo Music Carnival Talent Hunt
There has been an ongoing search for new Gospel Ministers. The apex will be during the carnival on February 21st at the event. Follow the buildup on KingsChat #emc2020
The glorious nation of Nigeria is truly blessed to have a Man of God in Pastor Chris Oyakhilome. He is the most profound and dynamic leader and teacher who gives the LoveWorld Nation a mandate to evangelize the globe.