News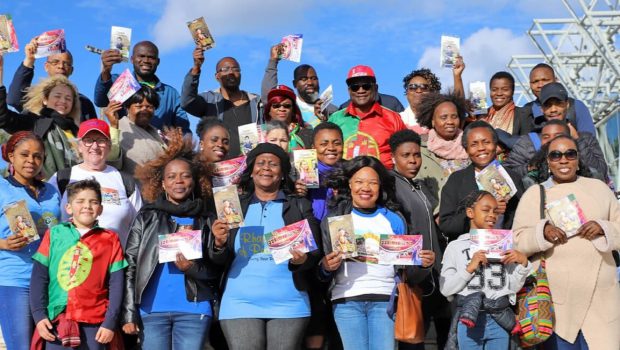 Published on August 28th, 2022 | by Gabriele Adbbe
0
Rhapsody of Realities is Now the 2nd Most Translated Book Ever
Pastor Chris Oyakhilome breaks a new record with Rhapsody of Realities becoming the 2nd most translated book ever. 
News websites keep reporting about this achievement, and congratulations are flowing on KingsChat. Everyone in the LoveWorld community is thrilled about reaching such a milestone by our man of God. 
For now, Rhapsody of Realities is translated into 7000 languages and still counting! Thus, the daily devotional is the most translated book after the Bible. 
Pastor Lola Aisida, a COO of LoveWorld Publishing, was the first one who informed about the record last Friday, August 26th, at a news conference in Ikeja, Nigeria. She also said that among 7000 languages, 520 of them are from Nigeria alone. 
Aisida cannot hide her excitement about the milestone: 
"Never in the history of the world, and in all the record books of Guinness Book of World Records, has any literary material – be it document, film, writing, book, or any piece of historical or modern parchment – been translated into 7,000 languages." 
To celebrate this achievement, we write the most inspiring quotes from the daily devotional written by Pastor Chris. 
History of Rhapsody of Realities
As mentioned before, Rhapsody of Realities is a daily devotional by Chris Oyakhilome, a founder and president of LoveWorld Inc. This Christian megachurch is also known as Christ Embassy.
Characterizing the book as another Bible study guide would be wrong. As described on its website, Rhapsody of Realities is a "classic love-note from God to you, with the message of life!" The book's structure is also interesting as every chapter has:
Topic of the day
Thematic Bible verse
The day's message
A small prayer at the end of the chapter
A list of Bible verses to read and study further
Christianity is a religion for everyone, and so is Rhapsody of Realities! The daily devotional is a great evangelical tool for individuals, churches, and organizations anywhere in the world.
In 2001, Rhapsody of Realities was published for the first time, and its original language was English. All the publishing operations were on LoveWorld Publishing, a small subsidiary of LoveWorld Inc in those days.
As for now, LoveWorld Publishing has expanded its presence in several countries. It also helped establish partnerships with many translators that made publishing Rhapsody of Realities into over 7000 languages possible.
Time goes fast and the world is changing drastically in a constant way. Before, Rhapsody of Realities was in the form of an ordinary paper book. Today, the daily devotional goes online with a free app available for iOS and Android.
The most inspiring quotes from our man of God
Rhapsody of Realities is an inspiring book with lots of quotes that are worthy of sharing. While writing the daily devotional, Pastor Chris acted as a messenger who delivered the World of God to His children. That is why most of the lines from the book are so uplifting that they settle into hearts forever. 
"Does Jesus inspire you? If you read about Him in the Scriptures, you'll surely be inspired."
— from God's love-package
"As a child of God, you have a calling to lead and blaze new trails in music and arts, agriculture, education, organization, administration, products, and services, etc. Yes, that's God's plan."
— from Creative and innovative
"When God tells you to be courageous, it's because He knows there's trouble out there. He knows some things will try to frighten you, discourage you and dissuade you; so He says, "Be courageous." I made up my mind that I was going to do what God said; I was going to be very courageous."
— from Increasing in strength and glory
"Therefore, look to the Holy Spirit in you; trust Him for guidance and direction and do whatever He tells you. He'll cause His blessing to come on it, and it'll blossom beyond your dreams."
— from Divinely favoured and positioned
"In Christianity, we emphasize studying and meditating on God's Word because of what it produces in your life: ever-increasing glory! That's what your life is for."
— from Feeding on the Word
Talk to the Lord about your life's decisions. He's interested in everything about your life.
— from Living in His perfect will
Until and unless you discover your purpose for life, you haven't lived. Fellowship with God is the idea. Fellowship with God isn't just being friends with Him; it's not just being close to Him; it's being in oneness with Him, united in purpose and in pursuit.
— from Your reason for being