Events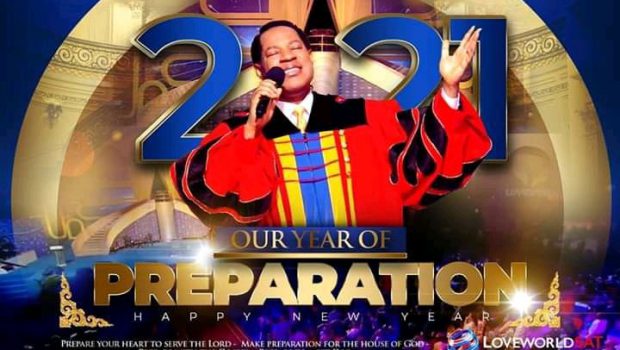 Published on January 3rd, 2021 | by Gabriele Adbbe
0
Pastor Chris welcomes the Year of Preparation
Expectations were high, as the LoveWorld President, Pastor Chris Oyakhilome, presented the theme of 2021 at his annual New Year's Eve Service on December 31st.
The world-renowned pastor announced that 2021 would be the Year of Preparation during the seven-hour show that was broadcast live from the LoveWorld Crusade Grounds in Nigeria.
Numerous people who were hungry to receive God's word to them for 2021 from the lips of Pastor Chris watched the show live at the venue, at home or in viewing centers around the world.
During the service, Chris Oyakhilome stressed that God is building His church through His people and that the gates of hell shall not prevail against it.
Reading from Amos 4:10-12, Pastor Chris Oyakhilome charged the participants and viewers to prepare their hearts to serve the Lord and to make preparations for the house of the Lord.
"Prepare with the gospel," the pastor said, as he read from Ephesians 6:15; "And your feet shod with the preparation of the gospel of peace."
Pastor Chris Oyakhilome eventually urged the crowd to prepare to meet God, emphasizing that the church has entered a time of preparation.
"We are in the last days, the closing moments of the world," he explained.
Pastor Chris: "The Lord is coming soon"
About three and a half hours into the show, Pastor Chris Oyakhilome presented the new theme.
"2021 is the Year of Preparation. In Heaven, preparation is being made, and I look… And all over the world, angels are out preparing people, helping with the word of God all over the world. I saw them working and working and working. I saw that the things around them did not matter. They were not distracted by the activities around them. They were just busy preparing people," he said and continued:
"Why are they ignoring the things around them? They said that this is more important. 'We are getting them set.' Why? The Lord is coming soon. I looked, and behold, in the world of darkness, preparations were taking place. What are they preparing for? They are preparing for war because they know their time is short," the Christ Embassy president explained.
Today, on January 3rd at 4 PM GMT+1, Pastor Chris Oyakhilome hosts his first Global Communion Service of the Year of Preparation. There, he will present the theme of January.
Every year and month have a theme in the LoveWorld community. Last year's theme was the Year of Perfection, which led the congregation through the Month of Songs, the Month of Knowledge, the Month of Continuing Fasting and Praying, the Month of Opening, the Month of Prayer, the Month of Productivity, the Month of Wisdom, the Month of Proclamation, the Month of Praise and finally the Month of Thanksgiving.
You can watch the entire New Year's Eve Service with Pastor Chris Oyakhilome below.