Events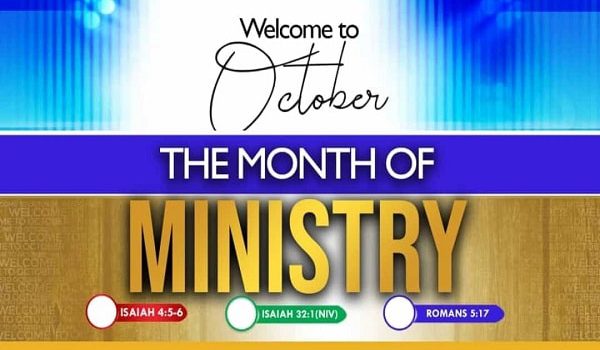 Published on October 7th, 2019 | by Alberto Krinsky
0
Pastor Chris Oyakhilome's October Global Communion
"The life God has given you to live now will determine what you'd be in the age to come,"
says The man of God, Reverend  Dr. Chris Oyakhilome, as he revealed that October is 'the Month of Ministry'. By God's Divine Grace he did so at the Global Communion Service.
Global Communion Broadcast Live
The enraptured audience received the word "Month of Ministry" and have taken it into their hearts as October is a month where the congregation is being communicated to. Pastor Chris Oyakhilome, founder of The Christ Embassy made sure the global audience received the word with great joy, knowing that it communicates God's thought concerning them for the times:-
"For as often as ye eat this bread, and drink this cup, ye do show the Lord's death till he come" (1 Corinthians 11:26).
Pastor Chris explained that Ministry means that God's representatives are going to reach out to the world this month. In ministering the Gospel they will change lives everywhere. Not just for now but in times to come. Reading from Isiah 4:6 we can understand:-
"And there shall be a tabernacle for a shadow in the day time from the heat, and for a place of refuge, and for a covert from storm and from rain." 
He further expounded the message of the month emphasizing that God's people are also protectors, and will offer a refuge to others. The man of God reflected and explained the idea that the life God has given to His children to live now, will be a determining factor in the lives had in the era of the millennial reign of our Lord and Saviour Jesus Christ.
Welcome to the Month of Ministry.
With beautiful singing and meaningful prayers, the global congregation was enraptured by the October Global Communion Service. As inspired by the Holy Spirit, Pastor Chris delivered an inspired sermon to comfort listeners. The Month of Ministry is about our future which is now.
What is Ministry?
In Matthew 4: 23 we hear that
" And Jesus went about all Galilee, teaching in their synagogues, and preaching the gospel of the kingdom, and healing all manner of sickness and all manner of disease among the people"
How do we celebrate that Ministry today? Pastor Chris Oyakhilome reminds us what an amazing grace the Lord Jesus has brought to us! The Bible says:-
"His blood speaks better things than the blood of Abel, crying for salvation, rather than vengeance (Hebrews 12:24)."
When we take the Communion, we're affirming that His shed blood was done on our behalf. It has brought us into fellowship with God. In this act of Salvation, it completed us. Not only that it keeps us safe.  The Month of Ministry we should be lead by the Spirit into a secure place and there will be healing. Our Communions are in Memory of Him, Jesus Christ.
Reading from Romans 5:17 Pastor Chris reminds us:-
" For if by one man's offense death reigned by one; much more they which receive abundance of grace and of the gift of righteousness shall reign in life by one, Jesus Christ."
The safety and protection we have from God is powerful. Knowing that within that there is healing. Healing of the body and spirit is part of His Ministry.
Pastor Chris Affirms And Teaches Us
" He never told us to swallow or rub anything, even though we might do so if we're particularly led by the Spirit. But one thing He told us to drink is the Cup of His blood! He said to do it in memory of Him. "
Communion and prayer are effective tools and we learn that:-
"His blood was poured out that you may live; so, it makes no difference what the problem is; by the power of the Holy Spirit, the victory is yours."
Pastor Chris's Conclusion
"the blood of Jesus speaks your healing. Believe this and affirm accordingly. The Communion of His body and blood serves to remind us of our unbroken and unbreakable fellowship with Him, as well as our wholeness or completeness in Him. His body was broken that we may never be broken by sickness, disease or pain. He gave His life that you may live in health and strength. Hallelujah!"
Drink the Cup with this consciousness, and His peace and glory will reign in your life.