Events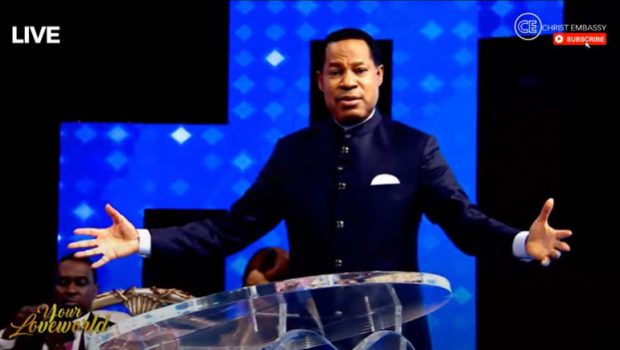 Published on October 7th, 2020 | by Alberto Krinsky
0
Pastor Chris launches phase six of "Your LoveWorld"
On Monday, October 5th, Pastor Chris Oyakhilome introduced season two phase six of his popular "Your LoveWorld with Pastor Chris" series.
The prayer week continues through Friday, October 9th and can be streamed live on all LoveWorld networks every day at 7 PM GMT+1.
Chris Oyakhilome started yesterday's episode out by emphasizing the importance of God's word.
"The word of God gives us direction. The word is light, and if you put your heart on God's word, you will never lose your way. You can bet your life on it. You will never lose your way," he ensured.
Comfort amid pandemic
Since its launch in April, "Your LoveWorld with Pastor Chris" has produced more than 75 episodes that all have proven to be very well-liked.
Many LoveWorld believers have found comfort in the prayer series throughout the ongoing COVID-19 pandemic, which has claimed more than one million lives worldwide so far.
The Christ Embassy President launched the show at the beginning of April, after his first Global Day of Prayer against the coronavirus, and since then, it has been extended time and time again.
The current prayer week takes place in the Month of Proclamation. Just three days ago, Pastor Chris Oyakhilome announced that this is the theme of October.
"This month is the Month of Proclamation. It is so powerful, and I am going to explain to you… Now, in simple terms and contexts of our message for this month, a proclamation is an affirmation made public," he stated during Sunday's Global Communion Service.
He then referred to Hebrews 13:5-6.
"Let your conversation be without covetousness and be content with such things as ye have: for he hath said, I will never leave thee, nor forsake thee. So that we may boldly say, The Lord is my helper, and I will not fear what man shall do unto me."
The Year of Perfection continues
Every month has a theme in the LoveWorld community, and this year, Chris Oyakhilome has, so far, led his congregation through the Month of Songs (February), the Month of Knowledge (March), the Month of Continuing Fasting and Praying (April), the Month of Opening (May), the Month of Prayer (June), the Month of Productivity (July), the Month of Recovery (August) and the Month of Wisdom (September).
The first theme of this Year of Perfection was February's Month of Songs, where the Christ Embassy congregation was lifted to a higher spiritual level through music.
That month, Pastor Chris Oyakhilome also joined his long-time friend Pastor Benny Hinn in Houston, Texas for a special broadcast of Pastor Chris Oyakhilome's "Your LoveWorld" shows.
The first Global Day of Prayer
The Month of Songs was followed by March's Month of Knowledge. That was celebrated with the official opening of the Engineering Faculty of the Benson Idahosa University's new building in Benin City, Nigeria.
In 2015, Pastor Chris Oyakhilome donated $1 billion to the project.
The Month of Knowledge also marked the time where the coronavirus in earnest got a grip on the world.
The pandemic forced people and societies across the world to adjust their lives to a new reality consisting of social distancing, working from home and lots of alcogel.
At the end of March, Pastor Chris Oyakhilome teamed up with Pastor Benny Hinn again for a Global Day of Prayer against the COVID-19 pandemic.
The show was a massive success, attracting 3 billion online viewers.
Prayer weeks and Social Media Week
In May, the Month of Opening, the pastor hosted a three-day-long Global Fasting and Praying session.
June, which was the Month of Prayer, included even more prayer weeks and another Global Day of Prayer.
Then came July, the Month of Productivity, where the popular "Your LoveWorld with Pastor Chris" broadcasts continued, and the LoveWorld Nation announced an online Social Media Week.
According to LoveWorld, the purpose of the Social Media Week was to empower people to maximize the readily available technological tools for wealth creation, economic growth, career path interest and personal development in specific areas of interest.
The Social Media Week received praising words from Pastor Chris Oyakhilome, who called it "very powerful, enlightening and empowering."
Prayers for Lebanon
Shortly after the Social Media Week ended, Pastor Chris Oyakhilome announced that August would be the Month of Recovery.
At the beginning of August, Lebanon, which has a big Christian community, was hit by a tragic disaster. A huge explosion took place at the port of Beirut, killing at least 190 people, injuring 6,5000 and leaving about 300,000 people homeless.
Pastor Chris Oyakhilome and the LoveWorld community immediately started praying for the recovery of Lebanon and its people.
He and Pastor Benny Hinn ended August with a five-day-long Praise-A-Thon with special guests like Bishop Clarence McClendon, Pastor Dan Willis, Pastor James Payne and Dr. Richard Roberts.
In September, the Month of Wisdom, the LoveWorld Nation started building a LoveWorld Medical Center in Nigeria.
Now, let us see what the Month of Proclamation has in store for us.