Events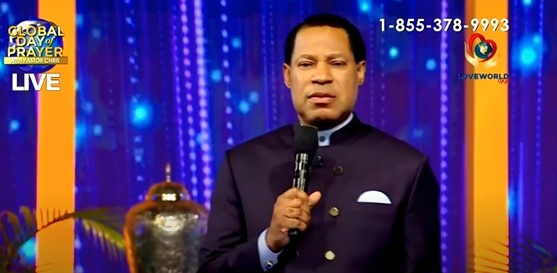 Published on June 27th, 2021 | by Alberto Krinsky
0
Pastor Chris: "God enlightens us in prayer"
"We give praise to God for the opportunity that He has given us to serve Him in these days. These closing days for the church age," Pastor Chris Oyakhilome said in his opening statement of the Global Day of Prayer on Friday, June 25th.
The session lasted for 24 hours and featured speeches and sermons by Pastor Benny Hinn and various Christ Embassy ministers, including Pastor Chris Oyakhilome.
"We have many sets of the gospel that will be leading us in prayer and sharing briefly God's word with us. To encourage us, enlighten us, inform us, to bless us. He does in prayer," the pastor said.
"You are going to pray. You are going to give attention to prayer. We have to do it. Jesus taught that men ought always to pray. The deception that is in the world today is what the Bible told us about already," Pastor Chris Oyakhilome added.
Pastor Chris commemorates anniversary of Global Days of Prayer
It was Pastor Chris Oyakhilome's second Global Day of Prayer of 2021, the Year of Preparation.
The first one took place in March and marked the one-year anniversary of the Christ Embassy president's first Global Day of Prayer in March 2020.
"A year ago, precisely on the 27th of the month of March, 2020, Pastor Benny Hinn and I led a global prayer meeting because we realized that what was happening in the world, and nations had been seized, gripped with fear and did not know where to turn," Pastor Chris Oyakhilome said in March 2021.
"They had no idea what was going on. Families were afraid, men and women were afraid, children were afraid, governments were afraid, and some government leaders called it an unknown enemy. They said, 'how can we fight this unknown enemy?' Well, at the time when we called for that prayer program, ministers around the world joined us by the millions," Pastor Chris Oyakhilome explained and continued:
"God's people all over the world joined us from so many churches and ministries around the world, including groups that often did not speak to each other, but there was a unity of spirit that we all experienced. 27th of March 2020. And because we prayed, the spirit of God gave us guidance," he underlined.
Four Global Days of Prayer in 2020
Last year, Pastor Chris Oyakhilome hosted four Global Days of Prayer that all proved to be incredibly popular and gathered lots of online viewers from all over the globe.
The first session was streamed by three billion people and also featured Pastor Benny Hinn.
The two ministers prayed against the coronavirus, which they continued to do throughout the year.
On June 26th, 2020, Pastor Chris Oyakhilome held another Global Day of Prayer, where his congregation utilized what they had learned during the months of praying in the spring.
"Today will be even more significant. We will begin, pray now into tomorrow, Saturday. We call it a day of prayer. The first one was to initiate what we wanted to do, and now it is a whole day – 24 hours," Pastor Chris Oyakhilome said at the opening of the prayer day.
During the event, Pastor Chris Oyakhilome, Pastor Benny Hinn and other Christ Embassy ministers preached for 24 hours.
Pastor Chris Oyakhilome also emphasized the importance of praying.
"The reason why He invited us to pray is because He intended to answer. Jesus taught us how to pray. From the scriptures, we learn about prayer. Prayer by the prophets, prayer by the apostles of Jesus. Prayer is not a sign of weakness. Prayer is our faith talking to God," he said.
Pastor Chris: "God will always hear us"
Another Global Day of Prayer followed on September 25th and once again attracted billions of viewers online.
Pastor Deola Phillips kicked off the 24-hour session by welcoming the many global viewers and by leading the first prayers.
Afterward, Pastor Chris Oyakhilome arrived and led the congregation to sing the song "Able God."
Pastor Chris Chris Oyakhilome then urged the participants to make the most of the special time of prayer.
"The greatest part of prayer is not the prayer itself. It is the answer. We have not had a great prayer program except we have had a great answer. It is God's response that truly matters," he said.
"Irrespective of what we have said… It does not matter what we shouted. It does not matter what we sang. It does not matter what we asked for if He did not answer. If He did not respond. It meant nothing. What He told us… He will always hear us. He told us that we have His ear. Every time we pray, we have God's ear," Pastor Chris Oyakhilome continued.
In December 2020, he hosted his fourth and final Global Day of Prayer of 2020.
You can watch part of the Global Day of Prayer from Friday, June 25th, 2021 in the video below.