Events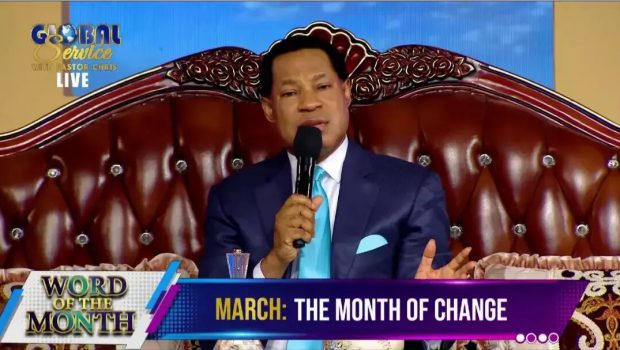 Published on March 8th, 2021 | by Gabriele Adbbe
0
Pastor Chris declares March to be the Month of Change
During Sunday's monthly Global Communion Service, Pastor Chris Oyakhilome revealed that March is the Month of Change.
The pastor did so by highlighting that there is room for many changes in the current month.
"You want change. This is the month to make it happen. What change do you want? Is it your health? Finances? In whatever situation, this is the month in which there is absolute grace to affect the change. There is grace, more than enough. It is the Month of Change," Pastor Chris Oyakhilome said and continued:
"There is something I want you to pray about. Maybe when we have some opportunity during the LoveWorld programs, we will discuss further. But you start praying about this now. In several countries, there are sinners that have been sent into several countries to function as bandits, terrorists, etc. They are sent into several countries, and they are paid to destabilize because it is part of the global plan."
The Christ Embassy president then went on to explain how to thwart that plan.
"But here is where you can do something. Start praying for the spirit of salvation to come upon those camps where all those young people are. Pray, let the spirit of salvation come into their mist. I believe there is going to be harvest from among them because this plan is going to be foiled," Pastor Chris Oyakhilome explained.
Goodbye to the Month of Grace
Saying hello to the Month of Change also means saying farewell to the Month of Grace, which Pastor Chris Oyakhilome introduced in the following way:
"This month of February is the Month of Grace, and what the Lord is saying to us about this month is that more grace is being released. He gives more grace. I have shared with you before… There are those who think they need a double anointing, there are those who think they need more anointing. There is no place in the world of God in the scriptures that talks about more anointing. You do not get more anointing. What God gives is more grace," the pastor said during the 11-hour long service.
"Remember, the life that he has brought us into is grace to grace. In fact, the margins are grace heaped upon grace. That is amazing. There is so much grace that you can take… It is amazing how we walk all the time, ignoring the grace that we could have," Pastor Chris Oyakhilome stated.
Pastor Chris: "Preparation is being made in Heaven"
In the LoveWorld Nation, every month and every year has a theme. January, the Month of Celebration, was the first month of the Year of Preparation.
When Pastor Chris Oyakhilome announced that 2021 would be the Year of Preparation, he did it with these words:
"2021 is the Year of Preparation. In Heaven, preparation is being made, and I look… And all over the world, angels are out preparing people, helping with the word of God all over the world. I saw them working and working and working. I saw that the things around them did not matter. They were not distracted by the activities around them. They were just busy preparing people," he said and continued:
"Why are they ignoring the things around them? They said that this is more important. 'We are getting them set.' Why? The Lord is coming soon. I looked, and behold, in the world of darkness, preparations were taking place. What are they preparing for? They are preparing for war because they know their time is short," Pastor Chris Oyakhilome noted.
Pastor Chris leads congregation through COVID-19 pandemic
During 2020, which was the Year of Perfection, Pastor Chris Oyakhilome led his Christ Embassy congregation through the Month of Songs, the Month of Knowledge, the Month of Continuing Fasting and Praying, the Month of Opening, the Month of Prayer, the Month of Productivity, the Month of Wisdom, the Month of Proclamation, the Month of Praise and finally the Month of Thanksgiving.
The Year of Perfection was heavily impacted by the COVID-19 pandemic, which still has a firm grip on the world.
On March 27th, 2020, Pastor Chris Oyakhilome and Pastor Benny Hinn put together a Global Day of Prayer against the coronavirus. The show became an instant success and gathered billions of online viewers.
Global Days of Prayer were on the program again in June, September and December 2020, and in between, Pastor Chris Oyakhilome hosted daily "Your LoveWorld with Pastor Chris" specials for a week at a time.
As of now, more than 90 episodes have been produced and more will follow during the Year of Preparation.
A new Global Day of Prayer is slated for March 26th.
You can watch the Global Communion Service for March below.