Events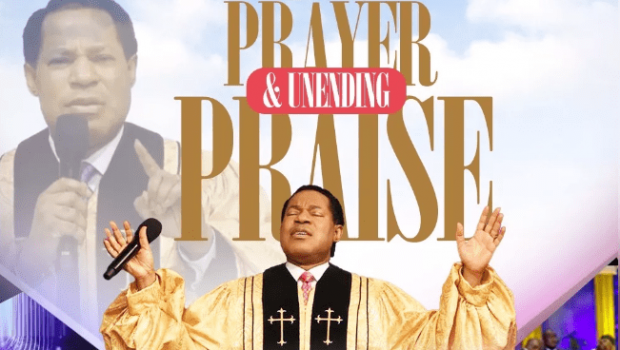 Published on June 9th, 2022 | by Alberto Krinsky
0
Pastor Chris Declares June to be the 'Month of Prayer and Unending Praise'
Welcome to the month of June, our 'Month of Prayer and Unending Praise'. We are well underway to stepping into a higher and more glorious arena of life and ministry to the Lord. We're thankful for what the Lord is about to do with us and around the world.
Pastor Chris Oyakhilome normally surprises the global audience with the them of the month at the Global Communion Service, but as opposed to previous months, he revealed at the May Global Communion Service that June will be the 'Month of Prayer and Unending Praise' when he said:
"The month of June is usually our Month of Prayer. If you have been careful to observe, you would notice that every year, the month of June is a Month of Prayer. So, this coming month of June is going to be a Month of Prayer with a difference. So, throughout the month of June, we will have unending praise."
Throughout this month we will be offering different prayer meetings; with our prayer times being 12:00 noon and 10:00 pm, we would have a full hour session and a 15min session respectively. That is, 1 hour at 12:00 noon and 15 minutes at 10:00 pm daily, or you can have it the other way, and pray for 15 minutes at 12:00 noon and 1 hour at 10:00 pm if this is more convenient.
Themes of the Month with Pastor Chris
Every year and every month have specific themes in the LoveWorld Nation.
May's theme was presented by Pastor Chris Oyakhilome at the beginning of May as the 'Month of Praise'.
"While I was praying and asking the Lord about the month of May, I was quite fascinated that He said that the month of May is the Month of Praise. Amazing," Pastor Chris Oyakhilome said as he welcomed the new month.
Remember the words of our Man of God: "Praise is a form of worship as much as thanksgiving is a form of worship to God; God wants His children to learn His word properly so as to return the true meaning of praise and worship to the house of God."
Exciting times this month with Pastor Chris
Also coming up this weekend is the annual International Cell Leaders Conference with Pastor Chris (ICLC2022).
The special annual conference which celebrates soul-winning exploits across the ministry is set to start on Thursday, June 09th, and run until Sunday, June 12th. Cell Leaders and Cell Executives from different nations of the world are expected to converge on the LoveWorld Crusade Grounds, along Lagos-Ibadan Expressway, Southwest Nigeria for the epochal conference. It will indeed be an extraordinary time of fellowship with God's Word. This year we are going to focus on soul-winning.
Soul-Winning though ReachOut Campaign
Pastor Chris teaches us; "you will experience even more success and progress this year as you engage in soul-winning and soul-winning activities. People are God's greatest assets on earth. Until you start winning people for Jesus, you're not involved in God's asset building. The Lord is always reaching out to the unsaved, to touch their lives with His power and glory; but He can only do so through you. Therefore you must always be passionate about soul-winning."
It is therefore our duty as soul-winners to join our ReachOut World Campaign.
Through ReachOut World, we are warring with the Rhapsody of Realities penetrating with truth and languages to reach over 60 million streets and 2.3 billion households of the world with the gospel of Christ. We are reaching 1.2 billion teenagers through our ReachOut world teevolution campaign. Our aim is to shine the light of God's word on over 1.9 billion children globally through our "Say yes to kids" campaign. And the visually impaired and those with hearing disabilities are not left out through the "No one left behind" campaign.
Take action now throughout the months of June and July, by adopting and tagging your name to at least 5 streets of the world,  Join us today to reach 7 billion people with the gospel of our Lord Jesus Christ and prepare your name for the rapture and soon coming of our Lord Jesus Christ.
Recount remarkable Miracles with Pastor Chris
Also coming to you this weekend are new fresh and uplifting episodes of HealingStreams Testimonies Live with Pastor Chris. This program is scheduled to run from Friday, 10th of June until Sunday, the 12th of June from 4:00 pm (GMT +1).
You can join us on Fridays, Saturdays, & Sundays every week to recount remarkable miracles and amazing testimonies wrought by the Spirit of God as a result of the fulfillment of the Healing to the nation's mandate, given to our man of God, Pastor Chris.
Connect to healingstreams.tv, via the Healing School mobile app, or on any of the LoveWorld networks. Invite your family, friends, and loved ones as well!