Events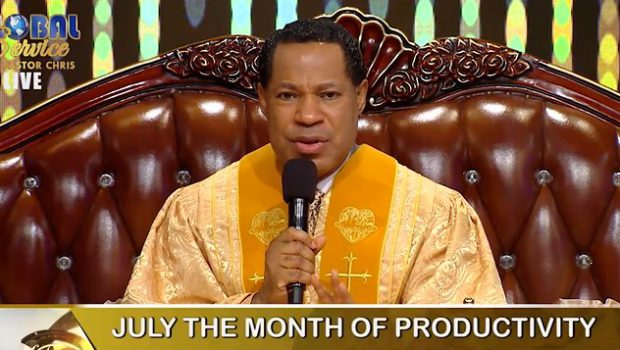 Published on July 6th, 2020 | by Gabriele Adbbe
0
Pastor Chris declares July the Month of Productivity
A new month has arrived, and that also means that a new theme is upon us. Yesterday, Pastor Chris Oyakhilome announced that July is the Month of Productivity.
It happened during his monthly Global Communion Service.
"God is going to bless the works of your hands. Marvelous blessings in your life. Every effort will be rewarded with tremendous results, far more results than you expected. You are going to be so productive by the blessing of God's Spirit. This is what will happen to you this month, hallelujah," Pastor Chris said, as he presented the theme.
"Thank Him for it, and as He guides you, whatever He tells you to do it, do it. The experience is an amazing blessing in your life, in the name of Jesus, hallelujah, hallelujah, give Him praise, worship Him, thank Him," he continued"
"Thank God for the opportunity to meet"
During the Global Communion Service, the Nigerian gospel singer Sinach performed twice, Chris Oyakhilome read Bible verses, had guests in his Lagos studio and showed testimony videos of healing miracles.
Furthermore, Pastor Chris Oyakhilome stressed how important it is to meet each other.
"The Lord is with us, and the beauty of His kingdom is expressed through us daily. Make sure that you gather together with the rest in your home or if you are in the church. Thank the Lord for the opportunity for us to meet like this and share His love," he stated.
A month of endless prayers
Welcoming the Month of Productivity also means saying goodbye to June, the Month of Prayer.
"It is the month of prayer, but we are already in a year of prayer, really. We are praying every 15th minute segment of every hour of every day. We started in January and we are going to do that until the end of the year. And I have said several times, thank God that we started it. What might have happened without prayer?" Pastor Chris Oyakhilome asked when he presented the theme of June a month ago.
Since then, the pastor and the Christ Embassy community has indeed been praying a lot.
The "Your LoveWorld with Pastor Chris" prayer weeks continued in June, and he even added a 24-hour Global Day of Prayer which took place on Friday, June 26th through Saturday, June 27th.
The LoveWorld community also started praying with the Christ Embassy leader on social media by using the hashtag #PrayWithPastorChris.
If you did not watch the Global Communion Service, here is your chance.