Events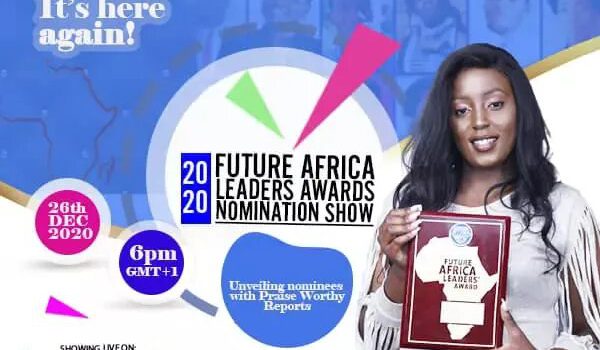 Published on December 16th, 2020 | by Gabriele Adbbe
0
Pastor Chris celebrates future African leaders
In just 10 days, another great Christ Embassy event organized by Pastor Chris Oyakhilome will take place; the eighth edition of the Future Africa Leader's Foundation Nomination Show.
The show kicks off on Saturday, December 26th, where 30 nominees from all over Africa will be announced.
On its website, the Future Africa Leaders' Foundation writes this about itself:
"The Future Africa Leaders' Foundation is an initiative aimed at exploring and expanding the leadership potentials in Africa and for Africa. It is for identifying, celebrating and supporting young Africans who have demonstrated exemplary leadership by impacting their generation positively through education, youth empowerment and mentoring through other projects aimed at building young people and preparing them for a positive future."
Among the young leaders hoping for a nomination is Manzi Guevara from Rwanda. He is a software engineering student and the head of the technical department at Pastor Chris Oyakhilome's Christ Embassy church in Rwanda.
"The work I have done in my nation is indeed big and extra because we know that our country, Rwanda, has been affected by the 1994 genocide, and many families – especially women – have been affected by this," he says in a video statement.
"Many of them could not have the privilege to have sanitation, to have good health and well-being, so with all the work, all the projects and all the programs that I have organized… The campaigns that I have done in order to help everyone and every citizen in our nation of Rwanda to be able to have good health and well-being to live in good conditions has always been my passion. This is what has been driving me all the time, and every project that has been given to me by the spirit of God to be able to reach out to those people that needed it and indeed were able to reach out to many by the grace of God, hallelujah," he continued.
Manzi Guevara ended his video by thanking Pastor Chris Oyakhilome for all of the amazing experiences and things he has learned since joining Christ Embassy.
Winner gets $25,000 from Pastor Chris
At last year's Future Africa Leader's Foundation show, more than 20,000 people were present in the LoveWorld Convocation Arena, as the awards were given.
The event has beamed live on more than 500 television channels across 100 countries.
Last year and this year, Pastor Chris Oyakhilome will give $25,000 to the person being named the Star Award Winner, while the rest of the nominees will be rewarded with $10,000.
In 2019, Pastor Chris Oyakhilome gave the Star Award to Babiene Heline Eweni from Cameroon.
Babiene Heline Eweni is an activist who is passionate about seeing young people fulfill their potentials, and her zeal for youth empowerment triggered her to host a six-week-long skill acquisition workshop under the "Leadership Initiative Award," attended by hundreds of youngsters.
They developed skills in catering, fashion design, soap making, carpentry and hairdressing.
She also organized a skills acquisition program designed to equip the disabled for a life of self. Her program trained more than 200 physically challenged people on manicure and pedicure, phone repairs, make-up and computer maintenance.
Babiene Heline Eweni even rewarded the three best candidates in each category with prizes worth more than $2,000.
Winner organized several charitable campaigns
It is no wonder that Pastor Chris Oyakhilome selected Babiene Heline Eweni as the winner because she also set up free medical check-up campaigns, where over 420 children were examined.
She currently runs the biggest medical campaign in Cameroon – a campaign that has provided antenatal care to over 800 internally displaced women and vaccination for 1,860 children against poliomyelitis, measles and hepatitis B.
Her campaign helped to mitigate illness and the death rate of internally displaced women and children living in the urban areas as a result of the austere Anglophone crisis.
She collaborated with 'Doctors Without Borders' to pay for surgery for two orphans who were blind due to cataracts, and they regained their sight after the surgery.
Babiene Heline Eweni took steps to improve the living conditions of Cameroonian refugees in Nigeria who were victims of the Anglophone crisis by visiting 35 refugee communities and reached 8,000 refugees, distributing food, personal hygiene items and school materials – an effort that is definitely in Pastor Chris Oyakhilome's spirit.
She also provided the refugees with drugs worth over $700 to treat common ailments suffered by the children and strategically established a communication line between the refugee communities, the Cameroon government and the civil society for continued food and medical supplies.
Despite the current Anglophone crisis that is rated as the worst socio-political conflict Cameroon has ever witnessed (and one of the worst in Africa), she started an NGO called "Exceptional Youth Initiative," which set up 14 conferences and 11 seminars that directly motivated over 48,000 youngsters.
Babiene Heline Eweni definitely deserved Pastor Chris Oyakhilome's adulation.