Events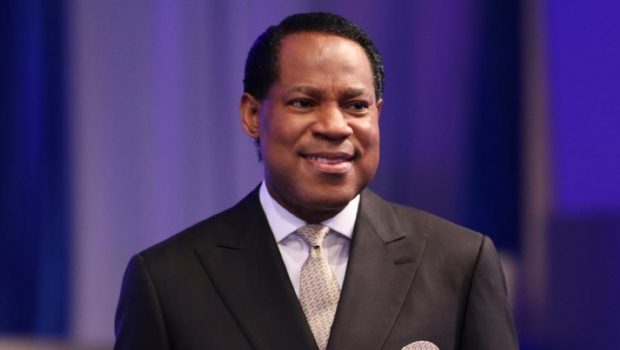 Published on February 22nd, 2021 | by Alberto Krinsky
0
Pastor Chris announces Global Day of Prayer in March
Exactly a year after Pastor Chris Oyakhilome's first Global Day of Prayer, the famous pastor will go on stage again to present his fourth of its kind.
The Christ Embassy president has announced that a new Global Day of Prayer will take place on Friday, March 26th at 6 PM GMT+1, and it will continue through Saturday, March 27th.
Pastor Chris Oyakhilome's first Global Day of Prayer took place on March 27th, 2020 and was streamed by three billion online viewers.
During the show, Pastor Chris Oyakhilome and his longtime friend Pastor Benny Hinn prayed against the coronavirus, which was spreading rapidly across the globe at the time.
On June 26th, 2020, Pastor Chris held another Global Day of Prayer where his congregation utilized what they had learned during the months of praying in the spring.
"Today will be even more significant. We will begin, pray now into tomorrow, Saturday. We call it a day of prayer. The first one was to initiate what we wanted to do, and now it is a whole day – 24 hours," Chris Oyakhilome said at the opening of the prayer day.
During the event, Pastor Chris Oyakhilome, Pastor Benny Hinn and other Christ Embassy ministers preached for 24 hours.
Pastor Chris Oyakhilome also emphasized the importance of praying on that day.
"The reason why He invited us to pray is because He intended to answer. Jesus taught us how to pray. From the scriptures, we learn about prayer. Prayer by the prophets, prayer by the apostles of Jesus. Prayer is not a sign of weakness. Prayer is our faith talking to God," he said.
Pastor Chris: "The greatest part of prayer is the answer"
Another Global Day of Prayer followed on September 25th and once again attracted billions of viewers online.
Pastor Deola Phillips kicked off the 24-hour session by welcoming the many global viewers and by leading the first prayers.
Afterward, Pastor Chris arrived and led the congregation to sing the song "Able God."
Chris Oyakhilome then urged the participants to make the most of the special time of prayer.
"The greatest part of prayer is not the prayer itself. It is the answer. We have not had a great prayer program except we have had a great answer. It is God's response that truly matters," he said.
"Irrespective of what we have said… It does not matter what we shouted. It does not matter what we sang. It does not matter what we asked for if He did not answer. If He did not respond. It meant nothing. What He told us… He will always hear us. He told us that we have His ear. Every time we pray, we have God's ear," Pastor Chris Oyakhilome continued.
Pastors from around the world joined
During the Global Day of Prayer in September 2020, Pastor Benny Hinn, the evangelist Eddy Owase, Reverend Ken Oyakhilome, Pastor T.T. Edun, Pastor Ambrose Isesele, Pastor Ose Oyakhilome, Pastor Linda Okocha and Pastor Lanre Alabi also led prayers.
The LoveWorld Nation had, likewise, invited partnering ministers from Zimbabwe, Switzerland, Madagascar, the Netherlands, Ghana, Egypt, the United Arab Emirates, Ghana, Lebanon, the United States, the United Kingdom, South Africa, Burkina Faso and Hungary to do sermons during the live broadcast.
Prayers were made for the church, the governments all over the globe, economic sectors, the spread of the Gospel, the salvation of souls and for young people and children.
The special day also contained several musical elements.
It all climaxed with a powerful message from Pastor Chris Oyakhilome on September 26th.
Pastor Chris continues his Global Days of Prayer
Pastor Chris Oyakhilome's most recent Global Day of Prayer took place on December 1st-December 2nd, 2020.
Several of the LoveWorld pastors ministered, and viewers witnessed testimonies from around the world.
At the beginning of the Global Day of Prayer, Pastor Chris Oyakhilome stressed the importance of praying.
"In the presence of God in prayer, your faith rises. It rises to the surface. It rises to the top. What you thought was impossible… When you are in the place of prayer, it suddenly becomes possible to you. Your boldness stands strong," he said.
"Outside prayer, you will be weak. You will feel weak. You will think weak, but in the presence of the spirit of God in prayer, you are strengthened. Those things that seemed impossible will look cheap to you and be possible," Pastor Chris Oyakhilome continued.
Between the pastor's many Global Days of Prayer, he has hosted multiple prayer weeks called "Your LoveWorld with Pastor Chris." So far, more than 90 episodes have been produced.