Events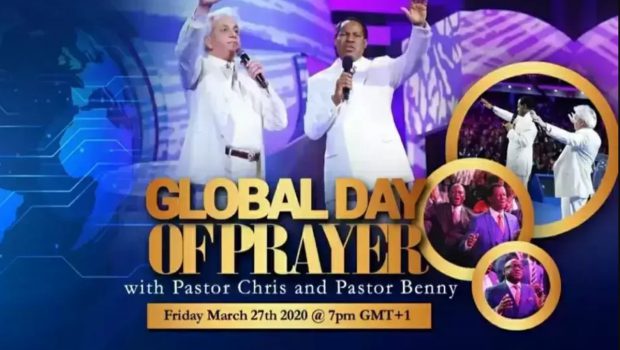 Published on March 24th, 2020 | by Gabriele Adbbe
0
Pastor Chris And Pastor Benny To Lead Global Prayer Service-Be In the Place of Salvation
In a special 'Your LoveWorld' Pastor Chris Oyakhilome delivered a beautiful message of hope and salvation. He urged the patient brethren to stay in the place where they have been told to stay. This is a call to prayer from Pastor Chris Oyakhilome and Pastor Benny Hinn.
God's generals have called us to pray with them on Friday 27th March 2020 at 7 pm +1 GMT 2 pm EST
Every moment of prayer is an investment in eternity. No matter where you are, don't miss this timely event that will cause a significant turnaround in the scheme of things and the world at large.
Pastor Chris called for us to raise our hands in worship and honor God. Singing the hymns with joy the LoveWorld Nation praised the gracious father. We are glad that we have the righteous Jesus to redeem us. Pastor Chris gave us his reflections on the fact that He died for our sins. When Jesus takes the decisions in your life no matter what occurs Jesus is righteous. Everything about Jesus is just right.
Unshakable Faith
Jesus is a solid rock for us, and we become unshakeable and unmovable even though everywhere else is sinking. This is a time that the bible has predicted as there are huge battles for global power in operation. Jesus has shown us who the real ambassador is. The leaders of the world have great confusion and of course we are cooperating with the government in halting its spread.
Pastor Benny Hinn has told us we need to pray. Pastor Chris reminded us that the Church is the only force restraining the evil. 2 Thessalonians 6-8.
"And now you know what is holding him back, so that he may be revealed at the proper time. For the secret power of lawlessness is already at work, but the one who now holds it back will continue to do so till he is taken out of the way. And then the lawless one will be revealed, whom the Lord Jesus will overthrow with the breath of his mouth and destroy by the splendor of his coming."
Prayer is an act of unity
Pastor Chris is calling on us to pray together. He said that the world is under siege right now and nations have retreated into their homes. People are hiding from an unknown enemy that is misunderstood. Only the name of Jesus can put an end to this.
Recalling 2 Chronicles 7:14 "If my people, who are called by my name, will humble themselves and pray and seek my face and turn from their wicked ways, then I will hear from heaven, and I will forgive their sin and will heal their land." Pastor Benny Hinn has reminded us that this is God's promise and the world will see the mighty acts of the Church. The Church will need to come together in unity and the world will see the Holy Spirit in action. His name is to be exalted. The name of our Lord and Savior Jesus Christ will be on the lips and in the hearts of the global Christian community.
If we deal with this in the realm of the spirit it will have power no more. There is a call to action for all ministers of the gospel to mobilize all believers to pray together. This event will be streamed live on all LoveWorld Networks, radio, television and online. Everyone's prayers are vital. Pastor Chris and Pastor Benny will be looking for you on Friday 27th March 2020 at 7 pm +1 GMT 2 pm EST.