Events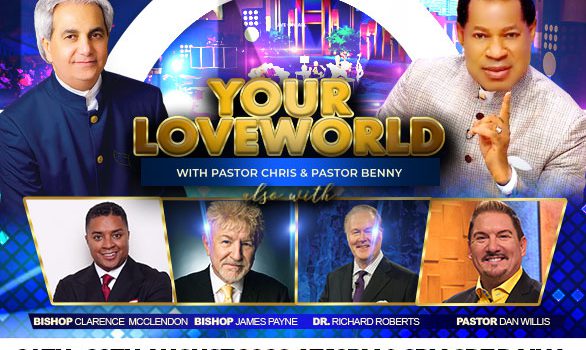 Published on August 25th, 2020 | by Alberto Krinsky
0
Pastor Chris and Pastor Benny Hinn launch "Praise-a-thon"
Only one day after Pastor Chris Oyakhilome's phase four of "Your LoveWorld with Pastor Chris" ended, he launched a five-day-long praise-a-thon with Pastor Benny Hinn.
The broadcasts kicked off yesterday, Monday, August 24th, with a three-hour long prayer session with Pastor Benny Hinn, and it ends on Friday, August 28th.
The sermons can be watched on all LoveWorld networks every day at 6 PM GMT+1.
Throughout the week, the two highly esteemed ministers will be joined by Bishop Clarence McClendon, Pastor Dan Willis, Pastor James Payne and Dr. Richard Roberts.
The two latter gentlemen joined Pastor Benny Hinn on stage yesterday.
Pastor Benny Hinn started the show off by thanking the Lord.
"Lord, we thank you for what you are about to do this week. We thank you for your power, your goodness, your grace, your love. Thank you, Lord, for the way you are going to touch our people and bless the life in a glorious way," he said.
"I believe the Lord is really going to heal His people, to bless His people and to visit His people," Pastor Benny Hinn continued.
Holy laughter
Chris Oyakhilome's long-time friend then went on to talk about an experience he once had with holy laughter.
Pastor Benny Hinn described how he sat in a plane that was about to crash and found himself laughing the holy laughter.
"That is when I became convinced that holy laughter is of the Holy Spirit… When it is real, it is real, and I am here to tell all of you that He is able to do exceedingly, abundantly above all things you ask, so stop worrying about life and about your money and about you children and about your trouble. He is bigger than all of it," he confirmed.
Months of prayer with Pastor Chris

Pastor Chris Oyakhilome and Pastor Benny Hinn have been doing joint sermons for a long time, and they, for instance, hosted a Global Day of Prayer against the coronavirus on March 27th.
After that, the Christ Embassy leader launched the first week of the "Your LoveWorld with Pastor Chris" prayer sessions, and it has been extended ever since.
The most recent prayer week ended just two days ago.
During the pandemic, Pastor Chris Oyakhilome has been hosting additional Global Days of Prayer and a Special Easter Sunday Service, which attracted 3.25 billion online viewers.
Apart from all of his Global Days of Prayer and "Your LoveWorld with Pastor Chris" prayer weeks, he has also been helping people and ministers all over the world.
Lots of people have been further impoverished due to the COVID-19 pandemic, so Pastor Chris Oyakhilome reached out a helping hand. He and the LoveWorld community has donated food relief packages, containing food, Christ Embassy books and other necessities, to thousands of people in Nigeria, the UK and Uganda, for instance.
Social Media Week
In the end of July, two of LoveWorld's digital channels, KingsChat and CeFlix, also hosted an online Social Media Week.
Participants witnessed 70 seminars, 42 workshops, 14 product reveals and 14 keynotes. The lectures included 'Privacy Violations – The Dark Side of Social Media,' 'The Politics and Business of Data,' 'The Control and Silencing of the Church and Conservatives' and 'Connect, Engage and Build Your Brand.'
KingsChat is the social media platform used in the ministry led by Pastor Chris Oyakhilome where people can post, comment, like and share views as well as get information about what is up in the Christ Embassy community.
CeFlix is a video and streaming platform created by Christ Embassy with the intention of making divine messages easily accessible to everyone.
On CeFlix, you can watch Christian news, prayer services, concerts, music videos, award shows and much more. The website also streams all LoveWorld events live and uploads them afterward for on-demand service so you can watch them on the go.
Pastor Chris presenting new theme
The Year of Perfection sure has been busy for Pastor Chris Oyakhilome so far.
Until now, he has guided the LoveWorld community through the Month of Songs (February). The Month of Knowledge (March), The Month of Continuing Fasting and Praying (April), The Month of Opening (May), The Month of Prayer (June), The Month of Productivity (July) and now The Month of Recovery (August).
"This month is going to be a very special month. Thank God for his love, his grace, his kindness and for the amazing ministry of the Holy Spirit that we have been receiving," Pastor Chris Oyakhilome said when he presented the theme of August.
"Make sure that your evangelical work is not suffering. You have to do it more than ever before. Use your 'Rhapsody of Realities.' Make sure you distribute 'Rhapsody of Realities' around the world," he continued.
Pastor Chris also emphasized that a stronger power would be available in the Month of Recovery.
"Remember, because it is the Month of Recovery, the opportunities that you missed – you can get them back and win souls. Win souls like never before and the power of whatever it is that you do would be several times what it would have been because you are recovering all by God' s special grace that is granted you in this time and in this hour," he stated.
On Sunday, September 6th, Pastor Chris Oyakhilome will reveal the new theme of September during his Global Communion Service.
It will be available for streaming on all LoveWorld networks at 4 PM GMT+1.