News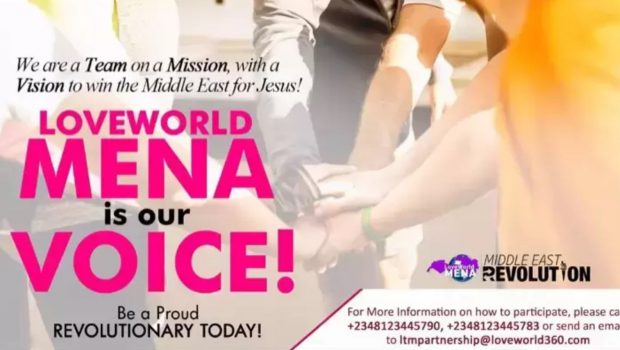 Published on January 27th, 2020 | by Gabriele Adbbe
0
Official Launch Of LoveWorld Mena Studio
The 'Middle East Revolution,' which is a strategic project set up by the 'LoveWorld Television Ministry' has had an official launch. It is aimed at effecting lasting changes with the Gospel in the Middle East. It was championed by outstanding partner zones in 2019 namely, Christ Embassy Port Harcourt Zone 1, Christ Embassy Middle East & South Asia Region, Christ Embassy Port Harcourt Ministry Centre and Christ Embassy Abuja Zone.
Through the unrivaled passion and participation of these zones, the Middle East is set to be transformed forever. Today a high-powered delegation, led by esteemed Pastor Dipo Fisho who is the Zonal Pastor, CE Abuja Zone, and other representatives of the inspiring Middle East Revolutionaries, left the shores of Lagos for Cairo, Egypt, to commission the station. At the time of writing the Middle East is set for a remarkable Evangelical move of the Spirit of God.
LoveWorld Mena Based Station In Egypt
This television station is heralded as a sign of increased salvation in the area. The pictures of the representatives of our Middle East Revolutionaries show the fanfare they received on their arrival. Their story is a tale of courageous men who stood up and made the Gospel of Christ known and heard in the Middle East. The programming will develop as the Word is heard. Through the establishment of a TV station that will broadcast the message of salvation will be delivered to a region known to be a fortress for Islam. Hearts and souls will be won. Congratulations to the brave Revolutionaries
The Unforgettable Experience
After the glorious arrival of the pioneering staff, it was a time to see the majestic sights. There was a wow factor to the experience. The phenomenal partners were taken for a regal trip around the city of Cairo. They were really very excited to tour the city and meet the people whose lives they are set to transform forever. It was an amazing trip as they learned about the ancient culture and delicious food. The places, people, and historic sites were amazing especially when they went to visit the memorizing pyramids. The partners could see the Harvest of Souls that are waiting.
LoveWorld MENA base station all started as inspiration from the Holy Ghost, then it became a prayer point.  Selfless financial support gave it form, and now the building stands completed to the glory of God. The program plan for the launch is 10-20 mediation programs, five filmed testimonies, two short movies, four episodes for 'The Year of Perfection.' In addition, there will be two episodes of the Healing School and five episodes of' Pastor Chris Teaching' dubbed over.
As Pastor Chris prophesized this year, 'The Year of Perfection' events will happen with great speed. This 'Middle East Revolution' is unfolding at a heart-stopping pace. Keep up with all the news of this station on KingsChat.