Events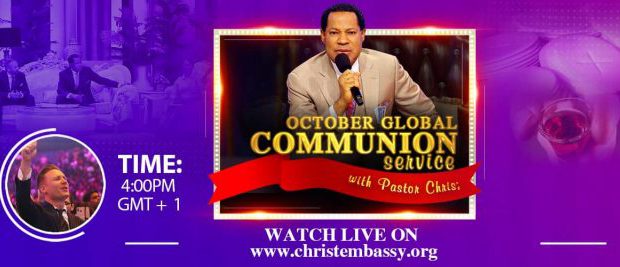 Published on October 1st, 2020 | by Gabriele Adbbe
0
October's Global Communion Service coming up
Today, the month of October begins, and as we step into the third last month of the Year of Perfection, a new theme awaits.
Pastor Chris Oyakhilome presents it on Sunday, October 4th at 4 PM GMT+1 during his monthly Global Communion Service. The event will be streamed live on all LoveWorld networks.
Welcoming a new month also means saying goodbye to the Month of Wisdom.
When it was introduced, Pastor Chris explained that September was a special month, and he urged God's people to let the wisdom of God rule through them, giving no place to ungodly wisdom.
The Christ Embassy president further suggested that just as there are three kinds of godly wisdom, there are also three kinds of ungodly wisdom.
With references to 1 Corinthians 3:19, 2 Corinthians 1:12, 2 Thessalonians 2:8-10 and other scriptures, he identified the latter to be worldly wisdom, fleshly wisdom and devilish wisdom.
He then charged God's people to let God's wisdom rule the Month of Wisdom and beyond, stating that when God's wisdom rules, the experience of absolute prosperity and good health are inevitable.
Prayers against COVID-19
Every month has a theme in the LoveWorld community, and this year, Chris Oyakhilome has, so far, led his congregation through the Month of Songs (February), the Month of Knowledge (March), the Month of Continuing Fasting and Praying (April), the Month of Opening (May), the Month of Prayer (June), the Month of Productivity (July), the Month of Recovery (August) and now the Month of Wisdom (September).
Until now, the Year of Perfection has been heavily affected by the ongoing COVID-19 pandemic. Chris Oyakhilome has done what he can to help people through this tough time by initiating Global Days of Prayer and prayer weeks.
In March, Pastor Chris Oyakhilome and Pastor Benny Hinn hosted the first Global Day of Prayer. It turned out to be a huge success, as it was watched by three billion people.
In June, Pastor Chris Oyakhilome did a second Global Day of Prayer, and a third one took place this Friday to Saturday.
Another Global Day of Prayer has been scheduled for December 1st to 2nd.
Helping people in dire need
Throughout the coronavirus pandemic, LoveWorld believers have also found comfort in Pastor Chris Oyakhilome's "Your LoveWorld with Pastor Chris" prayer weeks.
The first one was introduced in April, and ever since, the popular prayer weeks have been extended.
A new one is slated to kick off on Monday, October 5th at 7 PM GMT+1 and will last until Friday, October 9th. You can catch all of them on all LoveWorld networks.
The Christ Embassy leader has not only been praying against the coronavirus, he has also been helping people in dire need.
Thousands of people all over the world have benefitted from Pastor Chris Oyakhilome's food relief packages, containing food items and books from the congregation.