Events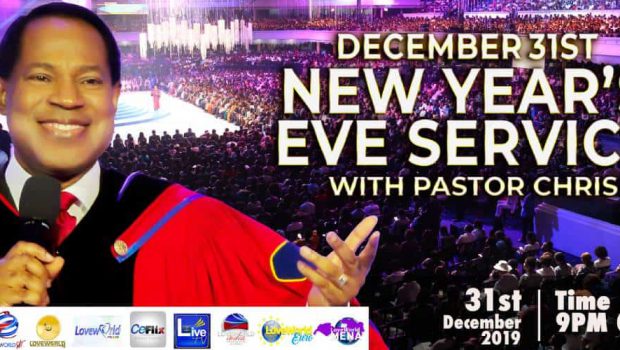 Published on December 25th, 2019 | by Gabriele Adbbe
0
New Year's Eve Service With Pastor Chris Is A Time Of Inspiration
Get ready for that moment when the LoveWorld family hears the New year Message from our Man of God Pastor Chris.  It will escort you into the New Year with great expectations, strength, and resolved purpose. The viewers and participants thoughtfully anticipate the prophetic Word from the Man of God, Pastor Chris Oyakhilome. The revelation will set all on course for a tremendously impactful 2020.
It will certainly be a night filled with resplendent worship. This annual service is accompanied by exhilarating praise which gives rise to spontaneous acts of thanksgiving. It's one event you don't want to miss as we will be treated to some specially choreographed performances from LMAM artists.
Special sermon to end the year
There are many wonderful ways to celebrate the New Year. For the LoveWorld family, it's a time of celebration and spiritual uplifting. It is also where families come together to feel closer to the Lord. There will be teachings and wisdom where the meaning of the season is explained and expounded upon. We can look forward to new insights into scriptures.
The New Year is when we gather our thoughts and reflect on the past year. We can recall the ways we have moved forward in the life we have in Jesus Christ. We can look forward to the future and improve on what we have sown in the past year.
It's an opportunity to repent the sins we have committed and place a vow to do better in the following year. It's a time to pause the normal routine of our lives and connect once more to the values of Christ Pastor Chris Oyakhilome instills in us when preaching. The theme word of the year will set our expectations high for the coming year.
Uplifting ministrations to usher in the year
This year, it is truly a privilege to take part in the annual December 31st New Year's Eve Service with Pastor Chris. There will be some surprise guests to inspire and uplift you. The event has the Future Africa Leaders Award (FALA) as its foundation segment.
In celebrating the young, bright, and talented influencers in Africa today we are heralding in a New Year full of hope. Hearing about the testimonies and celebrating the successes of our future leaders is edifying. It will serve to inspire us all to greater glory.
If you are unable to attend the event in person, it will be streaming live from multiple channels online and on several TV networks across the world. It is an event you would not want to miss.
Such a supernatural way to start the new year 2020, scheduled to hold on the 31st December 2019 at the LoveWorld Convocation Arena Lagos Nigeria, showing live on all LoveWorld Networks, LiveTV App and www.Ceflix.org