Events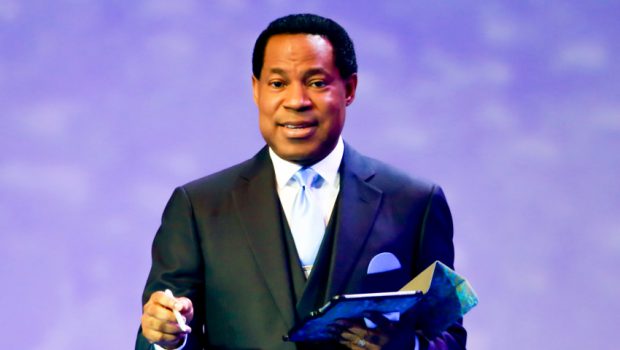 Published on April 13th, 2021 | by Alberto Krinsky
0
New phase of "Your LoveWorld with Pastor Chris" kicks off
About a month after the most recent round of "Your LoveWorld with Pastor Chris" ended, Pastor Chris Oyakhilome initiated a third phase of the third season of the show on Monday, April 12th.
During the show, Pastor Chris Oyakhilome and his LoveWorld Nation reached an important milestone.
"This is the 100th episode, so it is really, really amazing what the Lord has done. Thank God. So, you can imagine that for such a very special number it must be a special occasion today. This phase is going to bring us into a level of the spirit for you as an induvial that you never thought was possible," he said in his opening statement.
"So, these five days, from today to Friday, will be a special period that I am convinced you will not forget. It is so beautiful that we are in the 'Month of Truth.' So much to gain. Glory to Jesus," Pastor Chris Oyakhilome added.
The new phase of "Your LoveWorld with Pastor Chris" will run every day until and including Friday, April 16th. It is available for streaming on all LoveWorld networks every day at 7 PM GMT+1.
Pastor Chris impacts people around the world
Pastor Chris Oyakhilome initiated the "Your LoveWorld with Pastor Chris" shows at the beginning of April 2020. The broadcasts proved to be very popular among the Christ Embassy members, so the show has been extended over and over again.
The LoveWorld Nation writes that "the deep truths unveiled by the man of God in previous phases have tremendously blessed and inspired utter devotion to God in many worldwide. The weight of knowledge dispensed, eclipses the mission of the Church, the body of Christ, spiritual warfare and various tenets of the Gospel, explicitly unveiled from the scriptures by the man of God."
The corporation continues by saying that "heartfelt segments of prayer and quintessential sessions of worship and praise to God during the live telecast are always soul-lifting and rejuvenating. This sought-after experience with the Word of God, from which numerous testimonies have sprouted, uniquely reckons the 'Your LoveWorld Specials' broadcast to be one of the best things that has happened to the world at these sensitive times."
LoveWorld members find comfort in prayers
Throughout the past year, Pastor Chris Oyakhilome's prayer weeks and Global Days of Prayer have become a place for LoveWorld believers to find comfort during the COVID-19 pandemic.
The pastor introduced the prayer weeks as an extension of his first Global Day of Prayer with Pastor Benny Hinn. The first one took place on March 27th, 2020.
The two pastors prayed against the coronavirus that had just gotten its grip on the world at that time.
The show was a huge success, gathering three billion online viewers.
Pastor Chris Oyakhilome also added Global Days of Prayer in June, September and December.
Pastor Chris' busy Year of Preparation
Since the beginning of 2021, Pastor Chris Oyakhilome has had a lot on his plate.
On December 31st, 2020, the pastor named the new year the Year of Preparation. He also hailed the future African leaders at his annual Future African Leaders Awards.
The multi-talented Gwei Michael Wawa was named the Star Award Winner and took home a prize of $25,000.
Gwei Michael Wawa has, for instance, founded the Youth Empowerment through Science and Technology (YEST), an NGO that has held 34 conferences and 14 seminars for more than 18,000 young people.
After that, Pastor Chris Oyakhilome held two phases of "Your LoveWorld with Pastor Chris," a Healing Streams program, a Word Drive Study Series and a Global Day of Prayer in March 2021, marking a year of COVID-19's influence on the world.
As the Christ Embassy president got on stage in his studios in Lagos, Nigeria, he rekindled that day.
"A year ago, precisely on the 27th of the month of March, 2020, Pastor Benny Hinn and I led a global prayer meeting because we realized that what was happening in the world, and nations had been seized, gripped with fear and did not know where to turn," he said.
Pastor Chris' Month of Truth
The latest thing to happen in the LoveWorld Nation is that Pastor Chris Oyakhilome declared April to be the Month of Truth during April's Global Communion Service.
"This month is the Month of Truth, and God is revealing his truth to you like never before. And you are going to walk in truth. It is so important to walk in truth to understand truth. God's truth protects you. God's truth delivers you. God's truth saves you. You shall know the truth, and the truth shall make you free. Blessed be God," he said and continued:
"Open your heart to truth this month. To His truth. Not circumstantial truth, no. Not truth from men. His truth for His truth shall be thy shield. It is the Month of Truth, and God's truth will prevail. God's truth will triumph, hallelujah. Spread His truth everywhere. Tell His truth to the untold."
Watch the entire first episode of "Your LoveWorld with Pastor Chris" season three phase three in the video below.