Events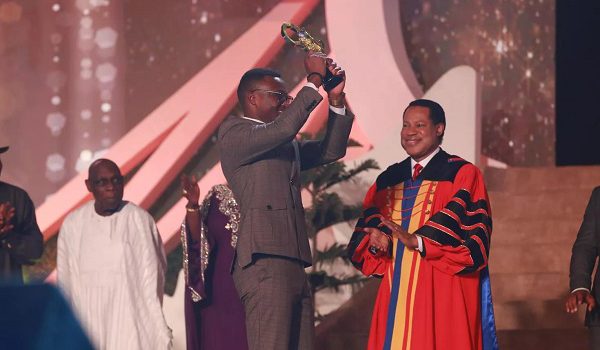 Published on January 4th, 2022 | by Alberto Krinsky
0
Nervis Nzometiah Tetsop emerges as Pastor Chris' Star Award Winner
Pastor Chris Oyakhilome's New Year's Eve Service not only brought the announcement of the new theme of the year but also the winners of the Future Africa Leaders' Awards.
In keeping with tradition, the Future Africa Leaders' Awards was held on the same night as the annual New Year's Eve Service on Friday, December 31st.
30 nominees had been published ahead of the show, but only 10 took home awards.
23-year-old Nervis Nzometiah Tetsop from Cameroon was named the Star Award Winner by Pastor Chris Oyakhilome, who handed him a $25,000 cash prize.
The money was given to help Nervis Nzometiah Tetsop achieve his future goals of impacting even more people.
10 winners got cash prizes from Pastor Chris
The nine remaining winners were Prisca Torboal from Chad, Anna Maneno Michael Milla from South Sudan, Isaac Bitrus from Nigeria, Emmanuel Gyan from Ghana, Manzi Guevara from Rwanda, Deo-Gratis Meyou from Benin, Kibaba Hillary from Kenya, Zulu Destiny from Zambia and Aguidi Cesar from.
They each received $10,000 for their great work in their local communities in 2021.
All of the nominees got words of wisdom from three inspiring leaders along the way.
Pastor Chris Oyakhilome had invited the founder of the African Diaspora Development Institute (ADDI) and former African Union Ambassador to the United States, Dr. Arikana Chihombori-Quao, as well as the former Nigerian presidents Chief Olusegun Obasanjo and Goodluck Ebele Jonathan, who all gave speeches to the nominees.
Star Award Winner aims to empower people in his community
The Star Award Winner, Nervis Nzometiah Tetsop, is a known community builder and technology innovator in his native Cameroon.
There, he has hosted several workshops and seminars on career orientation and opportunities in information technology for 3000 people.
The Future Africa Leaders' Awards is not the young man's first award, however. In 2020, he and his 3D printer won the ICT Project of the Year at the ICT Innovation Week in Cameroon.
Nervis Nzometiah Tetsop invented the 3D printer because he and his co-students often needed such a device for the visualization of their final projects as robotic engineering students.
He is also the man behind the Nervtek Community in Cameroon, where he educates youths on digital skills, including hardware development and computer programming.
"Our mission is to empower all the people in the community with digital skills that will fit into the latest trends and help build our communities. What I do is not by might but by the vision that God has planted in me. My vision is to develop my community by using technology. I aim at promoting other young people by teaching them skills that will help them in the future," Nervis Nzometiah Tetsop said when he won the ICT Project of the Year.