Events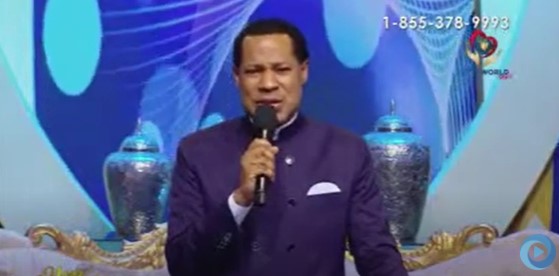 Published on January 31st, 2021 | by Gabriele Adbbe
0
Last chance to catch Pastor Chris' "Your LoveWorld Specials"
As Pastor Chris Oyakhilome's "Your LoveWorld Specials" is coming to an end today, LoveWorld believers have already gotten something new to look forward to.
During the weekend's sessions of the beloved prayer series, Pastor Chris announced that the current program is just the beginning.
He calls it season three phase one and said that several more phases will be added this year.
Pastor Chris Oyakhilome also promised that the end of the current program will be spectacular.
"The final session is in just a couple of hours. It is going to be so powerful. It is going to be so powerful… You are going to get something that will give you many nights of good rest. Hallelujah! Oh, thank you, Lord Jesus," he said.
"This year has been planned especially by God and planned for us. For our success. For our victory. For our testimony. And to the word. We will walk in absolute victory. And what a way to get started with this week that we have just had," Chris Oyakhilome added.
Programs out of the ordinary
The Christ Embassy President's prayer series began on Monday, January 25th and ends today, Sunday, January 31st with the final programs starting at 7 PM GMT+1 and 1 AM GMT+1.
As the Christ Embassy President, Pastor Chris, welcomed his audience at Monday's program, he stressed that this round of "Your LoveWorld Specials" will be something out of the ordinary.
"Praise God. We are starting today a very, very special series of programs. This is the first series of divinely orchestrated programs for the year. There is a lot of them coming. This one is very special because it is very loaded, specially packaged just for you," Chris Oyakhilome said and continued:
"Beginning the year like this, in which the Lord has instructed us and confirmed to us in the Year of Preparation. And as I said to you on the 31st of December 2020, as we were coming into this year, there is a lot of preparation taking place in Heaven."
Pastor Chris Oyakhilome explained the preparation like this:
"The angels are working on Earth with the Church of God in preparation right now. And I said to you that the forces of God are also in preparation for their final struggle because they know what is coming. They are just trying to fight for time. They know what is coming."
Lots of pastors ministering
During the week, Pastor Chris Oyakhilome and Pastor Benny Hinn were joined by Bishop James Payne, Pastor Dan Willis, Bishop Clarence McClendon and Dr. Mike Smalley.
During Monday's session, Pastor Dan Willis stressed how much the head of Christ Embassy and Pastor Benny Hinn love the LoveWorld community.
"We are so happy that you are with us tonight. Do you know that Pastor Benny and Pastor Chris love you so much? Every time I talk to Pastor Benny and Pastor Chris… Earlier today… All they just talk about is how much they love our LoveWorld nation, our LoveWorld family, and everyone that is viewing tonight – we love you so much, and we want you to feel the love," he said.