Events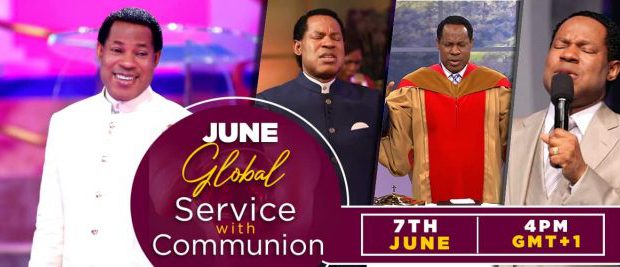 Published on June 3rd, 2020 | by Alberto Krinsky
0
June's Global Communion Service coming up
When your calendar says Sunday, June 7th, it is time for a LoveWorld tradition. Pastor Chris Oyakhilome will host his monthly Global Communion Service where he will present the new theme of June.
The service is available for live streaming on all LoveWorld networks on Sunday at 4 PM GMT+1.
Welcoming June also means saying goodbye to May, which was the Month of Opening. At May's Global Communion Service, Pastor Chris presented the theme like this.
"What does this mean? Is he opening your heart? Is he opening an opportunity? Is he opening a door? Is he opening a city? Is he opening a nation? But it is the month of opening. And God's spirit is at work. This month, not only will there be an experience of it… There will be a projection of it. Hallelujah. Thank you, Lord Jesus," he said.
Openings all over the world
It did indeed become a month of opening. Since March, huge parts of the world have been closed down due to the COVID-19 outbreak, but several restrictions have been lifted in recent weeks.
Schools in the UK have reopened, churches in the US are ready for business again, and in the Nordic countries, life is more or less back to normal.
May has truly been a month of miracles, where Chris Oyakhilome also opened his heart to people in need.
The Christ Embassy leader has been donating food and aid packages to poor families across Africa who have been facing even harder times because of the Coronavirus. Additionally, he is helping pastors in need.
Record-breaking prayers
Apart from the Global Communion Service, June 7th also marks the end of phase seven of "Your LoveWorld with Pastor Chris."
The prayer series has gathered believers in online prayer for months and was initiated after Pastor Chris Oyakhilome and Pastor Benny Hinn's Global Prayer Day on March 27th.
Since then, Pastor Chris Oyakhilome has been praying against the Coronavirus in his daily "Your LoveWorld" sessions.
The Pastor's broadcasts have broken records in recent months, as the Global Prayer Day was watched by 3 billion people. The Special Easter Sunday Service was streamed by 3.25 believers.
Goodbye to WordFest
Like this Sunday was not packed with LoveWorld events already, the WordFest also comes to an end on June 7th.
WordFest is a special festival of meditation on God's word, which started in the beginning of May.
Every day, existing and new subscribers to the Pastor Chris Digital Library can get free access to divine messages from Pastor Chris Oyakhilome through the WordFest program.
Subscribers can watch, listen to and meditate on a specifically selected message every day.
Along with the daily message comes a study guide, which simplifies the meaning of the divine words.
According to the LoveWorld Nation, WordFest's purpose is to build up and strengthen the faith of God's people during this time of adversity that the world is facing.