Events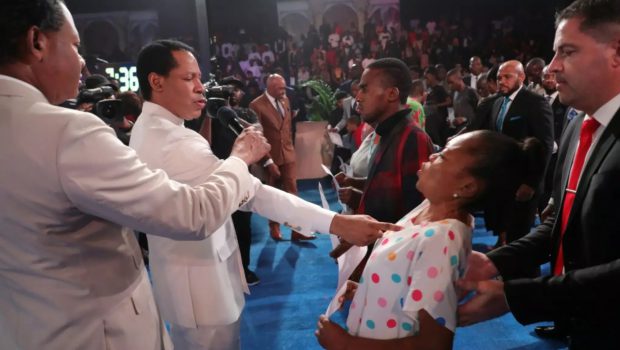 Published on March 21st, 2022 | by Gabriele Adbbe
0
Healing testimonies flood the internet following Pastor Chris' Healing Streams
The Healing School reports that 6.7 billion people participated in the just concluded Healing Streams Live Healing Services with Pastor Chris Oyakhilome.
The pastor kicked off the program on Friday, March 18th with an in-studio and online audience.
Over the weekend, numerous people from all corners of the Earth received their healing until the event ended on Sunday, March 20th.
Believers from countries such as Ukraine, Iraq, the United States, the Scandinavian countries, Cambodia and Samoa tuned in to watch Pastor Chris Oyakhilome perform miracles.
Pastor Chris heals Ethel from catarrh
In the wake of the Healing Streams Live Healing Services, healing testimonies have flooded social media networks such as KingsChat.
One of the testimonies comes from 60-year-old Gowry from the United Kingdom. She had a growth in her mouth for nine months, which caused her persistent pain and headaches and difficulty eating and speaking.
However, after attending the Healing Streams Live Healing Services on Friday, she noticed that the growth was gone. She is now able to eat without feeling any pain.
Ethel from Cameroon also received her healing this weekend.
"As Pastor Chris was praying for the sick, I placed my hand on my chest and throat, and I found myself throwing up. Suddenly, the cough and catarrh, and even the vaginal discomfort I had had for a while, stopped," she said.
Another miracle took place in the United Kingdom during the Healing Streams Live Healing Services with Pastor Chris Oyakhilome.
"A lady called Marga attended our healing center in Blackburn, UK. She had a surgery on her ankle two years ago and has been experiencing pain. She can now walk without pain," Maureen testified.
Healing testimonies from Poland, Namibia and Canada
In Poland, Leyland was healed after taking part in Pastor Chris Oyakhilome's healing program.
"Hallelujah! As I participated in the service tonight, the incessant pain in my arms left me. It happened immediately after the man of God, Pastor Chris, ministered to me. My body is still vibrating under the impact of the healing power of God directed to me through Pastor Chris. Praise the Lord," Leyland stated.
Asnath from Namibia was healed from heartburn, among other things.
"I had gastric heartburn, and my left ear had been blocked. As Pastor Chris prayed, I received my healing. No more pains in my heart and no more sounds in my left ear. I am healed," she testified.
Christ Embassy's branch in Ottawa, Canada has also contributed with a healing testimony.
"Pauline suffered hypertension and eye problems for one and a half years. She could not see properly. Now, she can see clearly, and all hypertensive symptoms are gone. Glory to God," they said.
Another Canadian testimony ticked in from Sylvester.
"He could not walk; he had lame hands and feet, and the condition affected his brain and vision. While Pastor Chris was praying, he received his healing. His limbs received strength, and he is now standing," he said.
Wiggling toes and non-stop prayers
In the United States, Renee suffered from spine and leg problems, which forced her to sit in a wheelchair. For two years, she was unable to bend down and touch her toes.
"I just want to thank the Lord for my healing today. I was watching Pastor Chris' session, and I think he was talking about prayers and expectations. When I learned about the Healing Streams today, I had an expectation, and that expectation was to be healed," Renee said during the weekend.
She gave her testimony at Christ Embassy branch in Manhattan, New York.
"So said, so done. I came in here, I listened to his words, and I opened my spirit, my mind, and something came over me. I had an out-of-the-body experience. Before, my spine was so weak, and I could not even sit straight in my chair. I was always leaning from side to side," she continued and added:
"Today, I am sitting down. I was not able to bend and touch my toes and get back up by myself. Now, I can do that without a problem, and I just want to say thank you, Lord. I am able to wiggle my toes, and I could not do that before. For that, I just want to say thank you, Lord."
Ahead of the event, the Healing School, which organized the Healing Streams Live Healing Services with Pastor Chris Oyakhilome, promised that "a surge of God's healing streams is set to flow to every county, city, town, country and continent of the world during this epic event. Non-stop prayers are being held online and onsite in preparation for the divine visitation. Several spaces including hospitals, schools, parks, compounds, homes, stadia as well as virtual platforms have also been prepared as healing centers to host this momentous healing escapade worldwide. It is the biggest healing service to be witnessed yet on the planet."