Events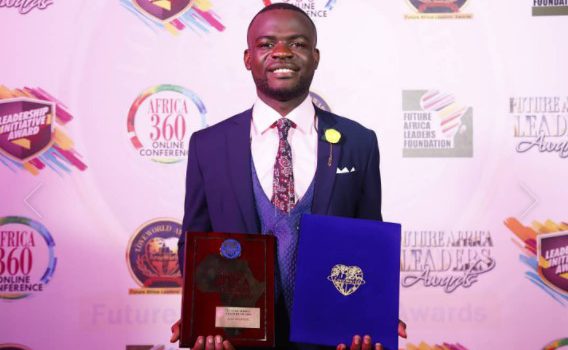 Published on January 6th, 2021 | by Gabriele Adbbe
0
Gwei Michael Wawa wins at Pastor Chris' FALA Awards
During Pastor Chris Oyakhilome's New Year's Eve Service, he also celebrated the leaders of tomorrow at the Future African Leaders Awards (FALA).
On its website, the Future Africa Leaders' Foundation writes this about itself:
"The Future Africa Leaders' Foundation is an initiative aimed at exploring and expanding the leadership potentials in Africa and for Africa. It is for identifying, celebrating and supporting young Africans who have demonstrated exemplary leadership by impacting their generation positively through education, youth empowerment and mentoring through other projects aimed at building young people and preparing them for a positive future."
At this year's show, 30 people from 20 African countries were nominated, and all of them received $10,000 from Pastor Chris for their work in their local communities.
The Star Award Winner was Gwei Michael Wawa who was given $25,000 along with the prestigious award.
Gwei Michael Wawa's entrepreneurial spirit
Gwei Michael Wawa is a 22-year-old social activist who is passionate about scientific and technological solutions for Africa's advancement.
He is the founder of the NGO 'Youth Empowerment through Science and Technology' (YEST), which has hosted 34 conferences as well as 14 Seminars that directly impacted more than 18,000 young people.
In collaboration with the College of Technology, Gwei Michael Wawa organized a technological trade fair with professors in the technology/engineering sectors of several universities invited as judges to review and award over 15 new inventions.
He partnered with Nervtek, a tech-based NGO, to sponsor and organize a Teck Community Challenge, where 200 students from five tertiary institutions in Cameroon showcased their skills through design and implementation of novel hardware smart dustbins, automatic temperature/humidity regulator, soil moisture detector sensor, a robotic arm and a metal detector.
The top three winners received prizes worth more than $1,000 each and accessories to upgrade their inventions.
Awards from seven countries
Challenged by the high demand for blood in Cameroon, Gwei Michael Wawa created a Digital Health Service platform called YEST-IN DHS, which provides 24-hour online free support services for hospitals, health centers and non-profit organizations; with special attention to helping them manage their blood donation process digitally and networking blood donors, hospitals, blood recipients and health care workers.
10,000 people have registered on the website, with more than 2,400 liters of blood donated in just five months of operation.
This solution has been adopted by 118 hospitals, health centers, and health organizations across the country.
Due to the COVID-19 lockdown, schools in Cameroon were closed for six months. Therefore, Gwei Michael Wawa instituted a three-month training project called ICT4Teens. 150 teenagers were trained and equipped in media and information literacy, robotics, web development, programming and computer literacy.
The future African leader also initiated an Agricultural Value Chain Project (AVCP), through which he established a plantain farm that engaged 85 University students who worked with him to create a multi-crop flour-making machine.
AVCP is currently being used as an internship program by universities for their agricultural and technological interns.
For the International Youth Day, Gwei Michael Wawa mobilized over 200 young people and partnered with a local dirt handling company to carry out the biggest cleanup campaign in his city.
Because of all of Gwei Michael Wawa's achievements, he has notable awards and commendations from the governments of Japan, Brazil, Rwanda, Kenya, Chad, Saudi Araba and Ethiopia.