Events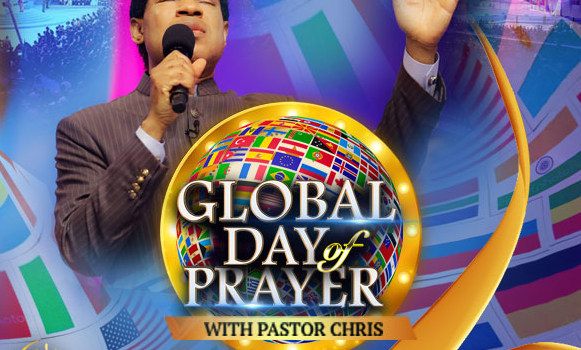 Published on September 22nd, 2020 | by Gabriele Adbbe
0
Global Day of Prayer is 3 days away
The countdown to a new Global Day of Prayer with Pastor Chris Oyakhilome has begun. In just three days, Pastor Chris will lead his congregation through 24 hours of praying when his highly anticipated event kicks off on Friday, September 25th at 6 PM GMT+1.
You can watch the Global Day of Prayer live on all LoveWorld networks.
The show is the third of its kind. The first one was broadcast at the end of March with Pastor Benny Hinn. The two ministers prayed against the coronavirus, which had just gotten a serious grip on the world at the time.
Believers from far and near tuned in, as three billion people watched the broadcast.
Comfort during pandemic
Following the successful prayer day, Chris Oyakhilome launched his "Your LoveWorld with Pastor Chris" prayer series, which has been extended ever since.
The most recent prayer week ended at the beginning of September.
The series has been a place for LoveWorld believers to seek comfort during the ongoing COVID-19 pandemic, bringing joy, happiness and hope into the many locked down communities around the world.
During the pandemic, Pastor Chris Oyakhilome has also presented a Special Easter Sunday Service, which gathered 3.25 billion people in front of their screens.
"Prayer is not a sign of weakness"
In June, the Month of Prayer, the Christ Embassy president hosted another Global Day of Prayer and stressed the importance of praying.
"The reason why He invited us to pray is because He intended to answer. Jesus taught us how to pray. From the scriptures, we learn about prayer. Prayer by the prophets, prayer by the apostles of Jesus. Prayer is not a sign of weakness. Prayer is our faith talking to God," he said.
The COVID-19 pandemic was also a topic of discussion during June's Global Day of Prayer. Pastor Chris Oyakhilome urged world leaders to start acting on their countries' interests.
A documentary about the virus was also part of the program, displaying how the fear of infection has changed our lives in the Year of Perfection.
While the coronavirus has terrorized people in all nations, Pastor Chris Oyakhilome has done what he can to help people get through this tough time.
Not only has he been praying against the virus for six months, he has also donated food packages and books to people and ministers in need.
Several thousand people all over the world have benefitted from his food relief packages.
A special month
This week's Global Day of Prayer comes in the Month of Wisdom, which is the name he gave September.
During his Global Communion Service earlier this month, Pastor Chris Oyakhilome explained that September is a special month and urged God's people to let the wisdom of God rule through them giving no place to ungodly wisdom. The LoveWorld President further suggested that just as there are three kinds of godly wisdom, there are also three kinds of ungodly wisdom.
With references to 1 Corinthians 3:19, 2 Corinthians 1:12, 2 Thessalonians 2:8-10 and other scriptures, he identified the latter to be worldly wisdom, fleshly wisdom and devilish wisdom. He then charged God's people to let God's wisdom rule this month and beyond stating that, when God's wisdom rules, the experience of absolute prosperity and good health are inevitable.
Rapture within 10 years
September has indeed been a Month of Wisdom so far. A little more than a week ago, Pastor Chris Oyakhilome presented a mathematical formula from which he had calculated the date of the rapture.
According to him, the second coming of Christ is happening within a decade.
"If the rapture does not happen in three years, it will be six years. If it does not happen in six years, it will not exceed 10 years," he stated.
The second coming of Christ is a Christian, Islamic, Bahai and Messianic Jewish belief regarding Jesus' return to Earth after his ascension to heaven about 2000 years ago.
Christians expect Jesus to set up a kingdom on Earth upon his arrival. Then, He will judge his enemies and reward the faithful ones, both living and dead.
Believers, for instance, find evidence for the second coming of Christ in John 14:25-29, which is here below:
"25 "All this I have spoken while still with you. 26 But the Advocate, the Holy Spirit, whom the Father will send in my name, will teach you all things and will remind you of everything I have said to you. 27 Peace I leave with you; my peace I give you. I do not give to you as the world gives. Do not let your hearts be troubled and do not be afraid.
28 "You heard me say, 'I am going away and I am coming back to you.' If you loved me, you would be glad that I am going to the Father, for the Father is greater than I. 29 I have told you now before it happens, so that when it does happen you will believe."