Events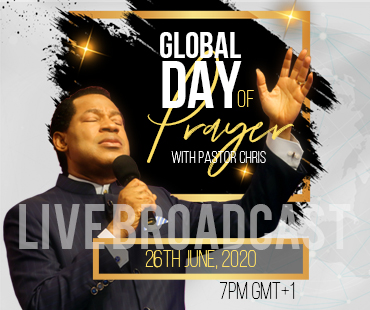 Published on June 15th, 2020 | by Gabriele Adbbe
0
Get ready for June's Global Day of Prayer
In just 11 days another big Christ Embassy event takes place when Pastor Chris Oyakhilome invited you to a new Global Day of Prayer.
On Friday, June 26th at 7 PM GMT+1 the prayer day will be available for live streaming on all LoveWorld networks.
Pastor Chris has stated that the upcoming day of prayer will be different from his previous ones because he and the LoveWorld community will be utilizing what they have learned during the past months of praying.
Chris Oyakhilome hosted a Global Day of Prayer against the Coronavirus with Pastor Benny Hinn on March 27th, which ended up becoming the beginning of several months of praying.
After March 27th, Pastor Chris Oyakhilome initiated a week of fasting and praying that has been extended several times now. Last week, the seventh phase of his "Your LoveWorld with Pastor Chris" prayer week ended.
In the middle of May, the Pastor also had three consecutive Global Fasting and Praying Days in the calendar.
Pastor Chris Oyakhilome's sermons have proven to be very popular. The Global Day of Prayer in March was watched live by 3 billion people, while his Special Easter Sunday Service reached 3.25 billion people.
Reaching out to people in need
Except for providing the LoveWorld community with prayers, miracles and comforting words during the global COVID-19 crisis, Pastor Chris Oyakhilome has also reached out to people in need.
People all over the world have felt the effects of the pandemic, and some individuals are having an even harder time providing food for their families.
Therefore, Pastor Chris Oyakhilome has sent food relief packages to thousands of people across Africa.
Right now, he is also helping pastors in dire need by donating food relief packages to them.
You too can help by visiting icm.ngo/pastorsrelief and nominating a pastor who needs a relief package. You can also sponsor this initiative by sending an email to info@theinnercitymission.ngo for more details.
So far, 6000 ministers in 16 countries have received help. That includes pastors in the UK, Uganda and Nigeria.
An instruction from God
The Christ Embassy leader presented the initiative during his "Your LoveWorld with Pastor Chris" broadcast on May 23rd.
"There are pastors who are impoverished by this situation. This crisis. There is no way that you can know all of them, but some of them were brought into very desperate circumstances. They have no food, no money, nothing! This week, I want us to do something if we can find them. If we can get to know who and where they are," Pastor Chris Oyakhilome said during the show.
Furthermore, he stated that it was an instruction of the spirit of God to initiate the project, which has gotten the name Global Emergency Food Relief for Pastors and Ministers of the Gospel.