Events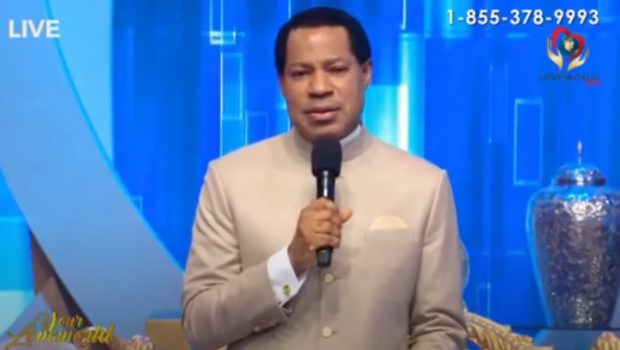 Published on April 26th, 2020 | by Alberto Krinsky
0
Fourth "Your LoveWorld" prayer week kicks off
When Pastor Chris Oyakhilome announced that April would be the month of Continuing Fasting and Praying, he certainly was correct.
Pastor Chris Oyakhilome's schedule for this month was been filled with "Your LoveWorld with Pastor Chris" prayer weeks, and a fourth one has just been added to say properly goodbye to April.
A period of glorious worship
The new and fourth phase of the "Your LoveWorld" prayer weeks began on Friday, April 24th and ends on Thursday, April 30th. Every day, the prayer is available for streaming at 7 PM GMT+1 on all LoveWorld networks.
According to Pastor Chris Oyakhilome, it will be a period of glorious worship to God, provision of Bible-based answers to mind-bugging questions from participants, times of fervent prayers and enlightening teachings by him.
Like in the previous weeks of prayer, Pastor Chris Oyakhilome is hosting guests, praying, answering questions from followers, singing and working miracles this week.
New inspiration in prayer
During the prayer on Saturday, April 25th, Pastor Chris Oyakhilome underlined the importance of praying.
"I would suppose that during this period, you have gained a new inspiration in prayer. Jesus taught that men ought always to pray. He told us to pray always. And we pray because God answers," he said.
The Pastor then added: "If He did not answer, we would not need to pray, but we pray because He invited us to pray. Prayer was not our idea. That was God's idea because prayer gives Him the legal right to enter into our circumstances."
With this statement, Pastor Chris Oyakhilome makes it clear that praying is a bridge to God, and that God wants us to step up onto this bridge.
Billions watching from all over the world
Billions of people from all over the world have been following Pastor
Chris Oyakhilome's three previous weeks of "Your LoveWorld" prayers.
Many received salvation and healing for their bodies as the Pastor, ministered by the power of the Holy Ghost, emphasized the imminent return of the Lord, Jesus Christ.
The idea of the prayer weeks arose after Pastor Chris Oyakhilome and Pastor Benny Hinn hosted a Global Prayer Day against the Coronavirus on March 27th. It became a huge success and gathered 3 billion online viewers from across the globe in joint prayer.
During Easter, Pastor Chris Oyakhilome reached new heights by attracting 3.25 billion online viewers to his Special Easter Sunday Service. The service commemorated the resurrection of Jesus Christ.

Only time will tell whether this fourth week of "Your LoveWorld with Pastor Chris" can beat the 3 billion viewers-milestone too.
You can watch the prayer from Saturday, April 25th below.