Events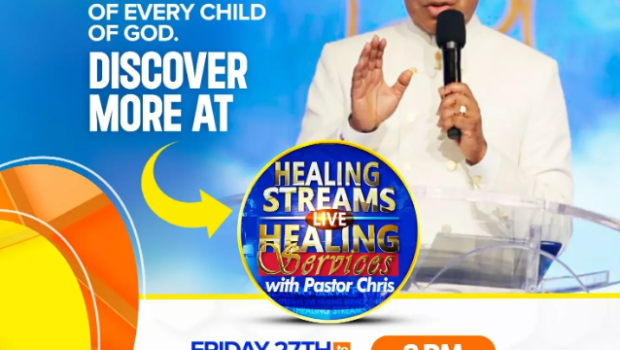 Published on October 23rd, 2023 | by Alberto Krinsky
0
Experience the Miraculous at the Upcoming Healing Streams Live Healing Services with Pastor Chris
The highly anticipated Healing Streams Live Healing Services with Pastor Chris Oyakhilome is just around the corner, and excitement is building among attendees and online viewers around the world. This transformative event, hosted by the esteemed Pastor Chris, is set to be a powerful manifestation of God's healing power and love.
The 9th edition of this healing crusade is set to take place this week, Friday, 27th of October until Sunday, 29th of October 2023. The event is broadcast live daily, allowing attendees to access it through the Healing Streams TV channel and the Healing School mobile app.
Unraveling the Miracles:
Pastor Chris, the renowned healing minister and the president of LoveWorld Inc., also known as Christ Embassy, has touched millions of lives through his healing ministry at the Healing School. His profound teachings and miraculous healing sessions have brought hope and restoration to countless individuals suffering from various ailments and conditions.
The Healing Streams Live Healing Services is a unique opportunity for people to experience the miraculous firsthand. This event brings together people from different walks of life, all seeking a touch from God. Attendees can expect to witness extraordinary miracles, as Pastor Chris ministers healing and delivers powerful messages of faith and hope.
Testimonies from Previous Attendees:
Sarah from Nigeria shared, "I was diagnosed with chronic kidney disease, and the doctors had given up hope. But during the Healing Streams Live Healing Services, I felt a warm sensation as Pastor Chris prayed, and instantly, I knew I was healed. Subsequent medical tests confirmed that my kidneys were functioning normally again. Praise God!"
Michael from the UK recalls, "I had been battling depression for years, and it felt like I was in a dark tunnel with no way out. The teachings and prayers at the Healing Streams Live Healing Services were my turning point. I experienced the love and peace of God like never before, and today, I am completely free from depression."
Grace from the United States shared, "I was born with a hearing impairment and had to use hearing aids. During the Healing Streams Live Healing Services, Pastor Chris prayed for those with hearing problems, and I felt something pop in my ears. From that moment, my hearing was completely restored. I am still in awe of the miracle I received."
Why Attend the Healing Streams Live Healing Services:
Encounter the Healing Power of God:
Witness firsthand the miraculous healing power of God as Pastor Chris ministers to the sick and suffering.
Receive Spiritual Enlightenment:
Pastor Chris's teachings are grounded in the Word of God, providing attendees with spiritual insight and enlightenment.
Connect with Believers from Around the World:
The event attracts believers from all corners of the globe, providing a unique opportunity to connect and fellowship with like-minded individuals.
Experience Transformation:
Many attendees have testified to experiencing life-changing transformations during the Healing Streams Live Healing Services.
How to Participate:
The Healing Streams Live Healing Services will be broadcast live, ensuring that people from around the world can participate. To join the live broadcast, simply register on the Healing Streams website and follow the instructions provided. Alternatively, you can attend the event in person at the designated venue.
The upcoming Healing Streams Live Healing Services with Pastor Chris is an event not to be missed. It promises to be a time of extraordinary miracles, spiritual enlightenment, and transformation. Whether you are in need of healing, seeking spiritual growth, or simply desiring to connect with other believers, this event has something for everyone.
Don't miss out on the opportunity to experience the miraculous with Pastor Chris!