Events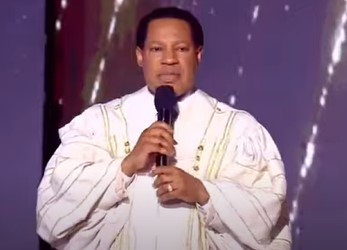 Published on March 13th, 2022 | by Gabriele Adbbe
0
Expectations soaring ahead of Pastor Chris' first Healing Streams Live Healing Services of 2022
Pastor Chris Oyakhilome and the Healing School's Healing Streams Live Healing Services session is only five days away now.
The event will be the first of its kind in 2022 and will see the pastor heal people of various diseases.
He does so by healing the sick in his tv studio or in their homes. Pastor Chris Oyakhilome tells people to put one hand on the place on their body where they need healing. The other hand should then be placed on their tv screen while the pastor preaches.
You can register for the event on the Healing School's website.
In the past, the pastor has healed numerous people. Expectations are, therefore, already on the rise ahead of the upcoming Healing Streams Live Healing Services session.
"I have great expectations for the upcoming Healing Streams Live Healing Services with Pastor Chris. I expect people to be healed of diverse illnesses and diseases. I just want to say thank you to Pastor Chris for bringing us healing online and touching so many lives across nations and different cultures. Thank you for your dedication to the gospel and bringing this message of salvation and health to the world," Camryn Boshaff from the United Kingdom says.
"Tremendous miracles will happen"
In Kenya, Lydia Sobayen shares Camryn Boshaff's excitement.
"The Live Healing Services will be amazing, and I am so excited because I know that tremendous miracles will happen. Many people who connect will get healed and they will have testimonies. I look forward to hearing these beautiful testimonies. I will be hosting virtual centers, and I know many have registered by now and are going to connect during that time. I encourage everyone to register and be a part of this coming program," she states.
You can host your own virtual viewing center by registering online.
Expects increase in miracles following Pastor Chris' healing event
Bishop Janice Best from the United States is also ready for Pastor Chris Oyakhilome's Healing Streams Live Healing Services. She encourages people to get ready to receive healing.
"I am very excited about the Live Healing Services with our man of God because I am anticipating an increase in miracles and healing of all manner of sicknesses and diseases. During the last edition, we saw people get healed, and it was amazing. I am looking forward to this, and I urge you to join in and partake. Get ready to receive healing and grace to carry healing to your community, your city, your state and your country," she says.
Pastor Chris Oyakhilome hosted three Healing Streams Live Healing Services in 2021.
All of them were organized with the Healing School, which is a subsidiary of the pastor's LoveWorld Inc., or Christ Embassy as it is also called.
The Healing School runs multiple healing events and youth healing programs.