News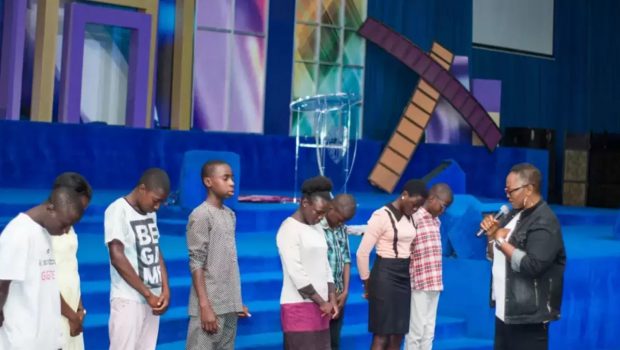 Published on December 3rd, 2019 | by Gabriele Adbbe
0
Connecting Teenagers With The Word of God In Jos.
When Pastor Chris says in his teaching "become positive in your life, positive in your life. think growth. think expansion. Think about the glory of God. Think winning souls " it is truly wonderful when souls are won. This is a message for all time
The Teens Ministry of CE Jos, North Central Zone 1 organized an outreach program called" Teens Connect 3.0" as a follow up on the extraordinary ITPLC 2019 with the Man of God. There were 247 teenagers sat listening with rapt attention. With 44 first time attendees at this service, it was a glorious time. As an apex to this, eight teenagers were born again int the Kingdom of Christ. Hallelujah.
The youth of today are the future
Guiding young souls and minds to righteousness must be done with careful ministrations. Young people have many messages these days. "When pressures mount and choices stare you in the face, you need to know where to draw wisdom and direction from!"   Deaconess. Morenike Duke-Daniels addressed the teens with inspiring words of edifying uplift. These teens are on the right path to finding a route to finding meaning and an understanding of what their purpose is when they attend a service at Christ Embassy.
The Teens Ministry of Christ Embassy Jos, North-Central Nigeria, hosted the 'Teens Connect' program on Sunday, November 24th, to reach out to teenagers in its neighborhoods. Teenagers from across the city of Jos congregated in large numbers at the LoveWorld Arena, Christ Embassy Central Church to receive direction for life from God's Word.
Guiding the lights
Addressing the teenagers during the session, esteemed Deaconess. Morenike Duke-Daniels, Zonal Teens Coordinator and Pastor of CE Jos Teens Church, inspired the youths with compelling thoughts. "There is no doubt that the world of teenagers is an exciting one, but not without its challenges. That is why you need God's Word and the courage to express your convictions, standing as a beacon of light to your world."
The teens who were present were uplifted by these comforting thoughts. "You will make an impact through the Holy Spirit. Believe in the power of the Holy Spirit Have no fear for anything."
Deaconess Morenike went on to remind them to stay connected to God's Word as the final source of truth. The teenagers then had the chance to ask pertinent questions and receive Word-based answers to their questions.
Worshipping with joy
To connect these teens to the Holy Spirit some soul-stirring and thrilling music ministrations were seen during the event. The gospel ministers got the teenagers dancing, praising and having fun in God's presence.
It was so inspiring that when some teenagers gave their hearts to Christ there was a calm reflection in the room. and others rededicated their lives to serving God whole-heartedly. The impact of the 'Teens Connect' program in the lives of teenagers in the city of Jos will echo and resonate in the magnificent future that awaits them.