Events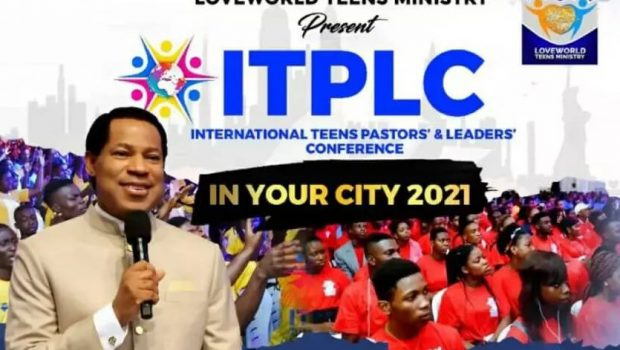 Published on February 18th, 2021 | by Gabriele Adbbe
0
Christ Embassy teens rejoice as ITPLC in Your City kicks off
It has only been three months since the big International Teens Pastors' & Leaders' Conference in Lagos, Nigeria, and today, February 18th, a new version of it kicks off.
It has gotten the name the International Teens Pastors' & Leaders' Conference in Your City and runs until Saturday, February 20th.
You can follow the conference every day at 6.30 EST on LoveWorldTeensMinistry.ca.
The pastors who will be ministering at the event include Rev. Tom Amenkhienan, Rev. Ken Oyakhilome, Rev. Ray Okocha, Evangelist Eddy Owase, Pastor TT Edun, Pastor Biodun Lawal, Pastor Ose Oyakhilome, Pastor Joy Amenkhienan, Pastor Linda Okocha, Pastor Lanre Alabi, Pastor Vale Odu Thomas and Pastor Ameachi Udeaku.
Several members of Christ Embassy have expressed their excitement about the program in videos on the ministry's social media platform, KingsChat.
"I know that after this program, I am going to receive increased grace, increased knowledge, wisdom and understanding. And I know that whatever task I am set out to do, after this program, I will do it all to perfection and to completion. I am staying excited, I am staying expectant, and I know that all of my expectations will be met," Sister Sharon Akinade from Christ Embassy in Scarborough, the United Kingdom says.
"My heart is prepared for this program"
Other members from the Scarborough branch have also taken to KingsChat to demonstrate their exhilaration.
"I am so excited. What other month to have ITPLC in Your City in than in the Month of Grace? This is an opportunity to participate, to listen to our man of God and our other seasoned ministers who have brought the word to us and increased and multiplied the grace in our lives. I am excited to be a part of it. Are you?" Sister Anjola Ajomale asks.
"I am inviting you to come join me in participating in ITPLC in Your City. I am super expectant of this program, hallelujah. And I cannot wait to hear what the ministers of God have to say to us, and I am so, so, so expectant to this Year of Preparation, and I know that my heart is prepared for this program, and yours should be too," Sister Taiye Oladoyin states.
Gives youths the opportunity to reflect
The most recent International Teens Pastors' & Leaders' Conference took place from Monday, November 16th to Wednesday, November 18th, 2020.
For years, the conference has been nurturing a love for Jesus Christ among the younger members of Christ Embassy through coaching sessions from experienced pastors.
Furthermore, the young people get the freedom to expand their knowledge and to take time to reflect at the International Teens Pastors' and Leaders' Conference.
The LoveWorld Nation and Pastor Chris Oyakhilome believe that this will prepare the new generation for leadership roles in the ministry and for life in general.