Events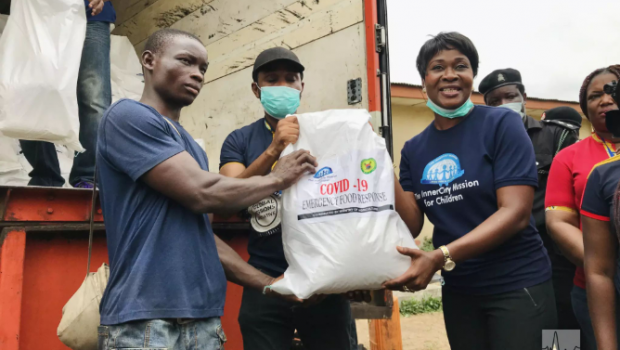 Published on April 19th, 2020 | by Alberto Krinsky
0
Chris Oyakhilome Foundation International took urgent action to support the most vulnerable amid COVID-19 pandemic
Following the outbreak of COVID-19, a defining global health crisis, governments around the world have taken measures to curb the spread of the virus including quarantine, social distancing, closure of businesses, travel bans, restricted movements and lockdowns. COVID-19 is much more than a health crisis, it has brought about devastating social and economic crises as people have lost jobs and sources of livelihood. It is estimated that the socio-economic impact of the pandemic, together with measures to mitigate the spread of the new coronavirus, could potentially be catastrophic for millions of orphaned, vulnerable and excluded children and families around the world.
Effects of mandatory lockdown
Lagos State has recorded the highest number of confirmed COVID-19 cases. Although with good intentions, the compulsory lockdown mandated by the government has the potential to disproportionately hurt the vulnerable and disadvantaged in the society who already lack access to stable livelihood, food security, sanitary essentials, and other basic needs. Most of these survive through their daily means of sustenance which has now been taken away by the lockdown. While the measures put in place by the government to curb the spread of the virus are commendable, we must remember that for the needy, even as they run from the invisible enemy outside, they have to face another enemy at home, which is hunger.
Urgent Action by InnerCity Mission
In response, the InnerCity Mission for Children, an integral part of the Chris Oyakhilome Foundation International, took urgent action to support the most vulnerable amid the global crisis through emergency food relief intervention to over 2, 000 households who have been adversely affected by the recent preventative measures of lockdown in Lagos, Nigeria.
Presentation of Emergency Food Donation
Faith-based non-governmental organization under the auspices of the Chris Oyakhilome Foundation International, InnerCity Mission for Children, yesterday presented its COVID-19 Emergency Food Donation at the Lagos State Agricultural Development Authority, Oko-Oba, Agege area of the state. The director of the foundation, Pastor (Mrs) Omo Alabi, said that Rev. Chris Oyakhilome believes that the challenge of the poor is not just about their needs; but the givers equally meeting their own needs. She said that the Reverend always stresses that the NGO has a divine responsibility to God, to the church and the society, especially to reach children in inner cities.
For more than a decade, the InnerCity Mission has actively carried out various programmes and initiatives that have impacted the lives of millions of needy children and families. From reaching the indigent in one country, our reach and impact have spread to over 50 countries benefitting over 20 million people, mostly children.
Beneficiaries express gratitude
Beneficiaries of the gesture expressed their profound gratitude to the man of God, Reverend (Dr.) Chris Oyakhilome and COFI, for remembering them at these dire times. Their joy knew no bounds as they continued to utter words of blessings, calling on God to reward Pastor Chris for remembering them and demonstrating such love towards them.