Events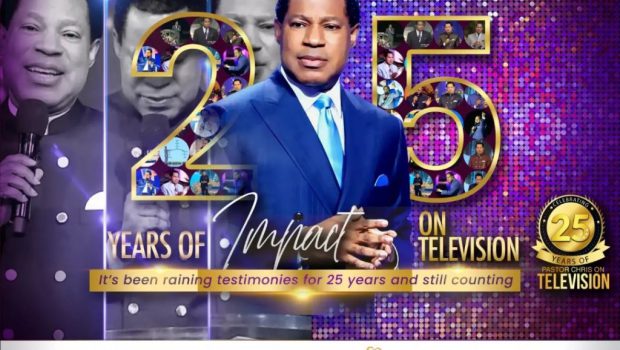 Published on August 23rd, 2022 | by Gabriele Adbbe
0
Celebrating 25 years of Pastor Chris on TV
The Year of Gathering Clouds is full of events that are remarkable for the LoveWorld Inc. congregation. But what stands out the most is the 25th anniversary of Pastor Chris on TV.
The celebration lasted for the whole of last week, August 14th–21st. During this period, we met each other online everyday to share our personal stories. These stories were about salvation, healing, and conversion from other religions to Christianity thanks to Pastor Chris. 
People around the globe shared their thoughts and experience and listening to them was uplifting and so heartwarming.
Pastor Chris achieved many heights with the LoveWorld Network. However, he believes the work is far from being finished and encourages the congregation to keep spreading the Word:
"We've not done yet. By the power of the Spirit of God, we going to do more. The whole world will learn of Jesus Christ." 
The first appearance of Pastor Chris on TV made history
It all started with one teaching program running on Saturday mornings in 1997 on the NBD channel. It changed Christian television forever and was the first prerequisite to establishing the LoveWorld Network.
Through the years, Pastor Chris has revolutionized televangelism. The next huge milestone happened in 2003 when our man of God launched the LoveWorld Christian Network — LCN.
This was the first Christian satellite network that was broadcasting from Africa to anywhere in the world for 24 hours. Since then, the LoveWorld Network continued its expansion.
Today, the television ministry has over 700 stations running on over 100 languages in over 200 countries. What a scale! LoveWorld Network makes an unprecedented global impact.
Testimonies are flowing on the anniversary
Even the first appearance of Pastor Chris on TV back in 1997 saved many souls. Before and during the celebration week, people recalled that day and how it changed their lives.
David Nwansi started watching Pastor Chris accidentally, and that was the beginning of a great way to God.
"My name is David Nwansi and I became a member of Christ Embassy Church 21 years ago through Pastor Chris on TV. I first watched Pastor Chris on DBN while randomly checking stations on my TV set. On that day I was inspired and opened to the Word of God. Pastor Chris's teaching became a part of me as I began to attend crusades at the national stadium, I attentively followed Pastor Chris on TV and did not miss a day except when unavailable."
By continuing, David shares a personal story about how Pastor Chris improved his family relationships:
"Watching Pastor Chris on TV has also helped me in building a strong bond with my family. We all look forward to watching him. It was more like family time for us. I am grateful to God for the knowledge I have gotten from my man of God, Pastor Chris…"
For Deacon Sam Emeagwara, Pastor Chris on TV was the first step to joining the Christ Embassy:
"My name is Deacon Sam Emeagwara, I began watching Pastor Chris on TV in 1997, Benin city. I enjoyed Pastor Chris' messages on truth and the expansion of God's Kingdom. I finally started to attend the church service in Christ Embassy Aba, where I also got married in 2003. Today, my wife and I are active members in Church."