News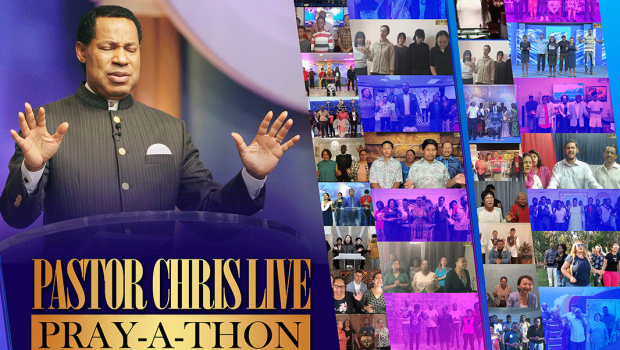 Published on October 2nd, 2022 | by Gabriele Adbbe
0
Celebrating 1000 days of Pray-A-Thon with Pastor Chris
The is so much to do for the LoveWorld Ministry today, October 2nd. It is not only about attending the Global Communion Service but also celebrating 1000 days of Pastor Chris Live Pray-A-Thon.
Our man of God launched the first editions of the program in June 2019. Since January 2020, Pray-A-Thon is a non-stop, global prayer marathon running every day. The LoveWorld president organizes daily 15-minute segments with the help of the Pastor Chris Live Prayer Network.
1000 days of Pray-A-Thon: ways to celebrate
Christians around the world have many ways to celebrate such a big milestone. One of them is visiting the Pastor Chris Live website and creating a special avatar for the event. Let everyone on KingsChat or Twitter know that you pray with Pastor Chris and effect global change through prayer!
Another way is to invite your friends, family, and loved ones to join Pastor Chris Global Online Prayer Network to pray together. Even short 15-minute sessions can impact the world a lot. That is why we continue doing so in 2022.
The third way is to follow Pastor Chris Live SuperUser on KingsChat and pray together with our man of God. The page posts regularly Bible verses and their interpretations to meditate on.
Pastor Chris: "God hears us and answers"
When we pray, God hears and answers — that is the most beautiful thing in the world. Pastor Chris talked about this on the first Global Day of Prayer in 2022. The Year of Gathering Clouds. This pearl of wisdom from our man of God is the main reason to celebrate 1000 days of Pray-A-Thon.
"The beautiful thing about prayer is that God answers. He told us to pray because He intended to answer, and that is what gives real meaning to prayer. Pray for your city, pray for your country because that is what He wants you to do. It is God's plan. He told you to pray for leaders."
During one of the Midweek Services, Pastor Chris talked about the importance to expect God to answer our prayers:
"If you're studying the Bible, you discover you're supposed to expect God to answer you. He didn't tell us just to pray. He plans to answer, and He expects that we should expect Him to answer."
Celebration posts fill KingsChat
LoveWorld members started sharing their posts on KingsChat celebrating 1000 days of Pray-A-Thon. Many of them feature special avatars we talked about before in the article.
Pastor Tonye Banigo writes: "Celebrating 1000 Days of Non-stop Prayers, and the miraculous impact on our world! I'm effecting Global change through my non-stop participation in the PCL Pray-A-Thon. Join me!!!"
Another user called Pshadeyy shares in her post: "Gloorrryy!!! It's 1000 days of prevailing in Prayers. We preserved the world with Prayers. Thank you, Pastor sir, for leading us to carry out our priestly role."
A user with the name JOY A SAMUEL posted: "When we pray in Jesus' Name, we make changes everywhere. When we pray in Jesus' name, God Hears us, He answers. We prayyyyyyyyyy…"
Many people participate in celebrations and post their words of congratulations to Pastor Chris and the Ministry. It is a perfect opportunity to join them and share the joy with a big LoveWorld community.